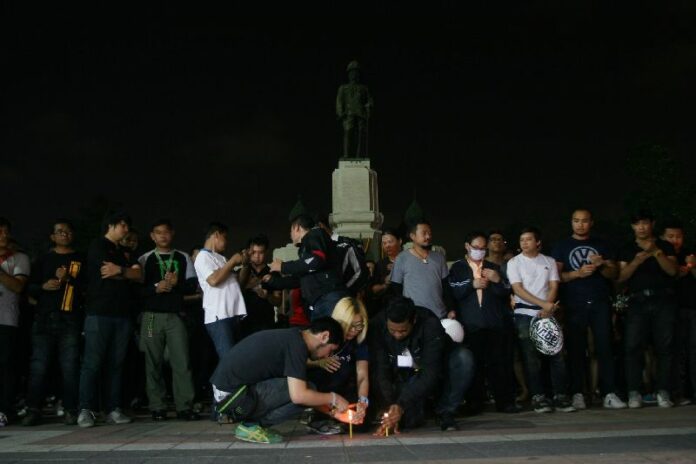 BANGKOK — An autopsy has established that a motorcyclist who failed to stop at a police checkpoint was shot dead by an officer, police say.
Naret Rojanaboonsongsri, 40, was found dead with severe injuries to the head shortly after he ran through a checkpoint near Hua Lek bridge in Chonburi province on 15 March. Witnesses said they heard one gunshot moments before Naret's motorcycle crashed. A police officer admitted to firing his weapon during the altercation, but insisted that he fired into the air and not at Naret.
The officer, Police Senior Sergeant Major Suphan Chamnit, told media agencies at the time that Naret crashed his motorcycle on his own and died from injuries caused by the crash.
However, a preliminary report from Phayathai Hospital noted that Naret died from gunshot to the head, prompting his family and friends to accuse police of attempting to cover up Naret's death. Over the past few days, Naret's friends have organized several demonstrations in defiance of the junta's ban on protests to demand an investigation. The latest gathering took place last night, when more than 100 people attended a vigil in Lumpini Park.
Today police announced that a formal autopsy at Thammasat Hospital determined Naret was killed by a gunshot wound to the head.
Pol.Col. Chakrit Sawasdi, an officer from Chonburi police force who observed the autopsy, told reporters that Naret was shot in the back of his head from a far distance.
Although the autopsy did not determine the type of bullet fired, the finding is enough to suggest that Pol.Sen.Sgt.Maj. Suphan was responsible for Naret's death, Pol.Col. Chakrit said.
"It is clearly confirmed that the officer acted with excessive force," Pol.Col. Chakrit said, adding that Suphan has been charged with premeditated murder. Police filed charges against the officer yesterday.
Banthoon Rojanaboonsongri, an older brother of Naret, declined to comment on a previous police statement that Naret was drunk when he drove through checkpoint, saying that he could not comment on an incident he did not personally witness. But Banthoon stressed that he would "do whatever it takes" to hold police responsible for his brother's death.
Pol.Maj.Gen. Nitipong Niamnoi, commander of Chonburi provincial police, said Pol.Sen.Sgt.Maj. Suphan has been suspended from his duty, effective immediately. He added that a committee has been formed to investigate the case, and that no police officer from Nong Kham Police Station, where Suphan was based, would be allowed to participate in the investigation.
"It is for transparency and fairness," Pol.Maj.Gen. Nititpong said.
Kittirittitham Sawaenghasap, a friend of Naret and a core organizer of previous protests, said he is "relieved" to hear about the development in the case.
"I have to admit, I had a negative opinion of police's work, so my friends and I banded together to spur police [to work on the case]," Kittirittitham told Khaosod. "But now that I have received all the information, I am relieved, to a certain degree."
Kittirittitham said his group will convene in front of the 2nd Provincial Police headquarters on 21 March to thank police officers for the investigation, and apologize for any offense the group has caused. According to Kittirittitham, police will permit the rally on three conditions: no show of disrespect to the venue, no violence, and no loud engines.
Yesterday, Thai police commander Pol.Gen. Somyot Pumphanmuang told reporters that even if Suphan was found guilty, his behavior may not be considered excessive in other countries.
"If this thing happened in United States of America, it wouldn't be considered excessive," Pol.Gen. Somyot told reporters yesterday, "In the US, or other countries with violent crimes, the police can shoot you just because you don't raise your hands up."
Nevertheless, Pol.Gen. Somyot insisted that Suphan will be prosecuted in accordance with the law.