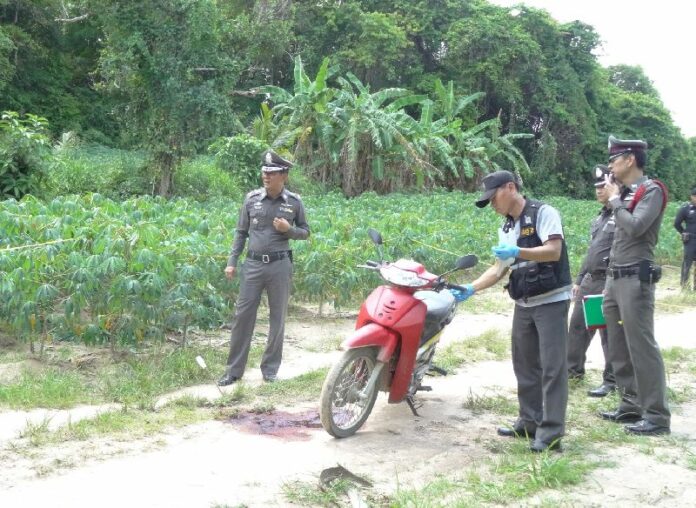 CHONBURI — A national park ranger was shot dead in a revenge attack by the father of an illegal wildlife poacher in Chonburi province today, police say.
Likhit Somboon, a 45-year-old ranger in charge of protecting animals in Khao Kheow Khao Chompoo Wildlife Sanctuary, was found dead 500 meters away from his residence this morning, said Pol.Cpt. Sophonwit Mitprapan.
Likhit's wife told police her husband was driving a motorcycle to meet the Minister of Natural Resources and Environment, who was visiting the national park office today. Likhit was reportedly shot dead at point blank range three times in the head.
After collecting evidence and testimony from witnesses, police arrested Inta Uijai, 52, on suspicion of murdering Likhit. Police also confiscated two rifles and one handgun near Inta's house, which is located around 1 kilometer away from the crime scene.
Pol.Col. Thittawat Suriyachai, investigative officer at Chonburi provincial police force, said Inta confessed to shooting Likhit with his handgun because the ranger was trying to track down his son for hunting wildlife in the park without permission two days ago. Inta told police he stopped Likhit on his way to work this morning and tried to convince him to drop the investigation, but Likhit refused.
"So the perpetrator used his 11 mm. handgun to shoot him out of rage before he fled the scene," Pol.Col. Thittawat said. "He didn't expect that police would find out about the crime."
Amnuay Trakulsupphachai, director of the wildlife sanctuary, described Likhit as a hardworking official who is known among colleagues for his tough stance against poaching.
Amnuay said Likhit informed him two days ago that he was trying to track down and arrest a teenager seen hunting animals in the national park.
"He's straightforward," Amnuay said, "Even though some wrongdoers who were arrested tried to bribe him, he refused that. He just sent them for prosecution. He's liked by his colleagues."