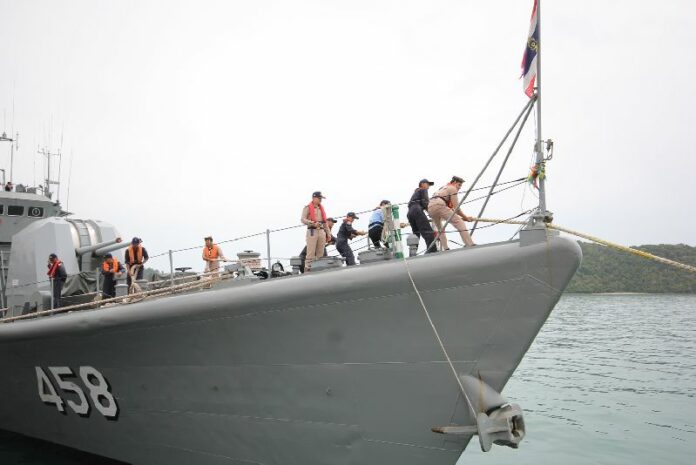 SONGKHLA — Malaysian police have requested passage into Thai territory to expand their search for graves belonging to migrants along the Thai-Malaysian border, Thai police say.
Malaysian authorities discovered more than 140 graves, some containing multiple corpses, at 28 detention camps they believe were run by human smugglers earlier this week. The discovery came a few weeks after Thai security forces found similar graves and detention camps in the southern border province of Songkhla.
Pol.Lt.Gen. Montri Potranant, commander of Ninth Region Police, told reporters that a group of Malaysian police officers met with Thai police at Sadao Police Station today to ask for permission to enter Thai territory to search for more bodies.
Although the searches will be confined to Malaysian territory, Malaysian police will be able to travel more quickly through the hilly and wooded terrain if they can enter some parts of Thailand, Pol.Lt.Gen. Montri explained.
However, after two hours of discussion the two parties " failed to reach an agreement" and will organize more rounds of talks in the near future, said Pol.Maj.Gen. Phuttichart Ekachan, deputy chief of Ninth Region Police.
"We have to look over issues about coordinates and routes in detail again," Pol.Maj.Gen. Phutthichart said. "As for details about the exhumation and inspection of bodies, Thai authorities cannot interfere with them."
Police believe the camps were used by smugglers and traffickers to abuse and detain migrants, mostly Rohingyas and Bangladeshis, to extort ransom from their families. Since the first camp was found in Thailand on 1 May, Thai police have issued seventy-seven arrest warrants and detained 49 people in connection with the human trafficking operation.
The latest arrest took place in Satun province today. The suspect, Chakrit Longsama, a former local administrator of Tammalang district, was charged with human trafficking, illegal detention, ransoming, and assisting aliens to enter the Kingdom illegally.
Human rights organizations and journalists in the region say Thai authorities have long known about the camps and trafficking rings, but turned a blind eye in exchange for bribes. A recent report published by the BBC stated that "entire communities" in some parts of southern Thailand are complicit in the trafficking networks, with residents working as guards and food fetchers.