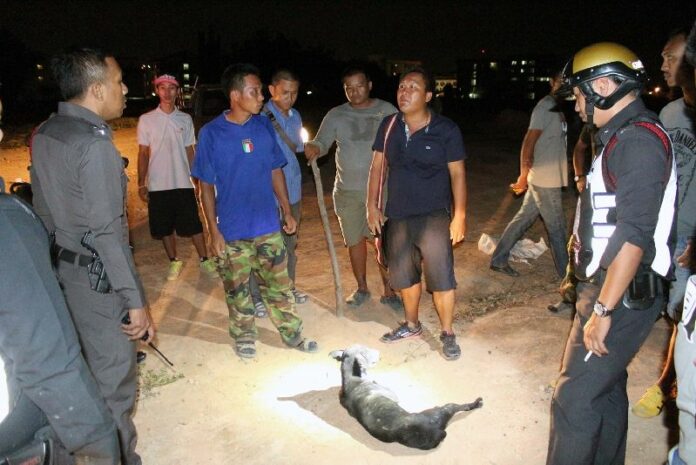 CHONBURI — A group of soldiers and policemen raided a condominium in the resort town of Pattaya today to arrest the building's manager for allegedly beating a stray dog on the property.
Thawat Pinyipyoke, 50, was arrested at Pattaya City Resort Condominium this morning by police officers from Pattaya City Police Station and soldiers from 14th Army District.
Thawat told police – who were responding to a complaint from local residents – that he ordered his staff to drive off several stray dogs that regularly gathered on the grounds of the condominium and rummaged through garbage bins, attracting complaints from the building's occupants.
He said he initially contacted Pattaya city administration about the problem but officials never addressed the issue.
According to Thawat, some of the dogs resisted the eviction, so he and his staff captured them in sacks in an attempt to transport them off the property. However, one of the dogs jumped out of the sack, so he used a stick to beat the dog on the head.
"I did not intend to harm or commit any cruelty against the animal," Thawat told police officers, adding that he is willing to pay all medical bills for the dog.
The dog was sent to a local animal hospital and is being treated for severe head injuries.
Police say they have charged Thawat with violating the 2014 Prevention of Animal Cruelty and Provision of Animal Welfare Act, which carries a maximum penalty of two years for prison for cruel or inhumane treatment of animals.
Police added that they have not charged any the eight Burmese staff who helped with the effort because only Thawat confessed to beating the dog, and there is currently no evidence linking the Burmese men to the crime.