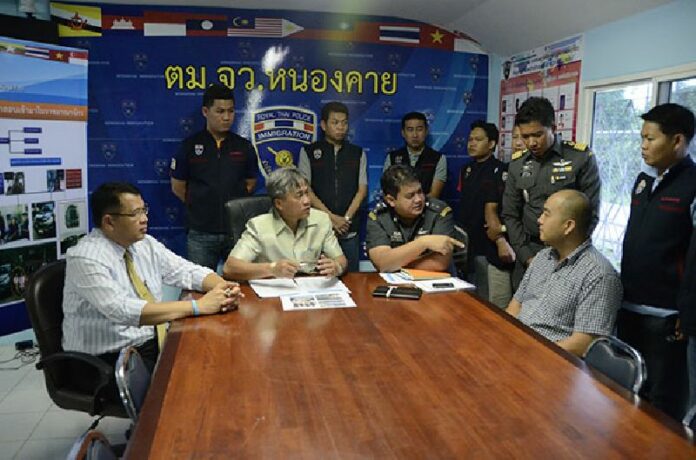 NONG KHAI — A Christian missionary from the United States was arrested Monday for smuggling seven North Koreans into Thailand.
Police Col. Pallop Suriyakul, commander of the Nong Khai Immigration Police, said yesterday the arrest came after police were alerted 17 June that the North Koreans – six men and one woman – had crossed the border illegally from Laos into Nong Khai province.
"After inquiring them for their purpose of travel, they have relatives in their destination country, which is South Korea," Pallop said.
Based on footage from security cameras installed along the roads, police tracked the car that carried them into Thailand and identified the driver as Korean-American Lee Isaac Byundo, Pallop said.
The court issued an arrest warrant for Lee on 27 July, and police took him into custody Monday. Lee has been charged with aiding them enter the kingdom illegally. The seven North Koreans are currently being held by immigration police, police said.
Lee has worked as a Christian missionary in Thailand for 19 years, Pallop said, and told police he was contacted by an American in Laos to help bring the group into Thailand.
"As for their route, after the North Koreans escaped from their country with the intention to travel to South Korea or other countries, they would find work and save some money in China first," Police Col. Pallop told reporters. "After they could find some contacts, they would travel to Vietnam, and then to Laos, and cross the Mekong into [Thailand]."
Pallop said the seven North Koreans appear to have relatives in South Korea. He added that Thailand will not deport them back to North Korea if South Korea grants them entrance.
At least 230 people from North Korea, which is known formally as the Democratic People's Republic of Korea, have been arrested for entering Thailand illegally this year, according to police.
The DPRK is ruled by an autocratic Communist regime which has been accused by numerous international organizations of ruthless human rights violations.
For comments, or corrections to this article please contact: [email protected]