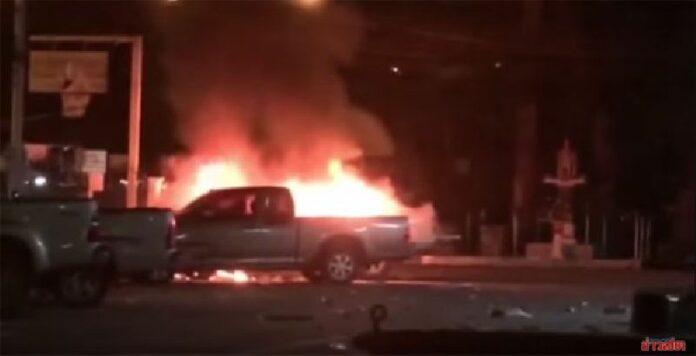 BANGKOK — The newly installed chief of the Royal Thai Police said officers on Phuket followed proper procedure in the hot pursuit that ended with two suspects dead and a riot Saturday night.
Two days after hundreds of protesters besieged the Thalang Police Station to demand justice, police Gen. Chakthip Chaijinda today said he thought officers acted appropriately in giving chase to the man and teen reportedly killed when a police truck slammed into their motorcycle.
"Police followed correct procedures, because the two suspects broke through the checkpoint," he said, repeating the police's account of what happened. "You have to ask yourself. If they were good people … why would they try to flee from police on their motorcycle?"
---
Phuket Police Promise Fair Probe Into Deaths After Mob Sieges Station
---
Police said the two male suspects – Therapong Srisamut, 17, and Pathomwat Panarak, 22 – were later found to be carrying 40 tablets of methamphetamine and had run through a police checkpoint without stopping. The families of the deceased and supporters accused officers of using excessive force and planting the drugs on their bodies.
Angry crowds shut down the road around the Thalang station for hours Saturday night, and only departed after soldiers intervened and brokered talks between the parties on Sunday morning. Officials on the southern island promised to investigate the incident and prosecute anyone found to have violated the law.
Chakthip also told reporters that the area where the police checkpoint was set up was a well-known "narcotics area" and rejected accusations police placed drugs on the men after the crash.
"No one planted the evidence on them. There's no such practice in my era," said Chakthip, who just succeeded Somyot Pumpanmuang as the new police chief two weeks ago. "If there was, they [the officers] will be fired."
Nonetheless police have launched an internal investigation into the incident and any police officers found guilty of wrongdoing will be punished, he added.
Several hours after word of the two men's deaths spread Saturday, crowds gathered where the police unit involved in the deadly pursuit were stationed to demand an explanation.
Troubles flared up at dusk when gunshots were heard, and some of the protesters set police vehicles on fire and threw objects at the station. The protesters eventually agreed to disperse on the condition that a fair investigation be conducted.
The riot took place despite the strict ban on protests and public gatherings imposed by the ruling military junta since it staged a coup d'etat in May 2014. Chakthip said today that leaders of the Thalang Police Station rally would face legal action for violating the protest ban and inciting criminal activity.
"We will definitely prosecute the leaders of the protest," he said. "I have information about these leaders. I know who they are. I'd like to warn other people to see this as a moral lesson. Don't do this kind of thing [violent protest]."
Thaweesith Panarak, father of the 22-year-old man killed Saturday, said he was not behind the demonstration.
"I would like to deny that I led people to stage the rally and protest in front of Thalang Police Station, which later escalated into incidents," he said. "Maybe my friends and people who don't agree with the officers' actions organized it on their own."
He said his son had previous run-ins with police on drug-related charges before but expressed doubt his son was indeed carrying drugs on Saturday.
"Police claimed they found drugs in my son's bag," Thaweesith said. "My son has a record of being arrested on drug charges, but does it mean that he would not ever turn his life around and become a good person in society?"
Related stories:
Phuket Police Promise Fair Probe Into Deaths After Mob Sieges Station
To reach us about this article or another matter, please contact us by e-mail at: [email protected].