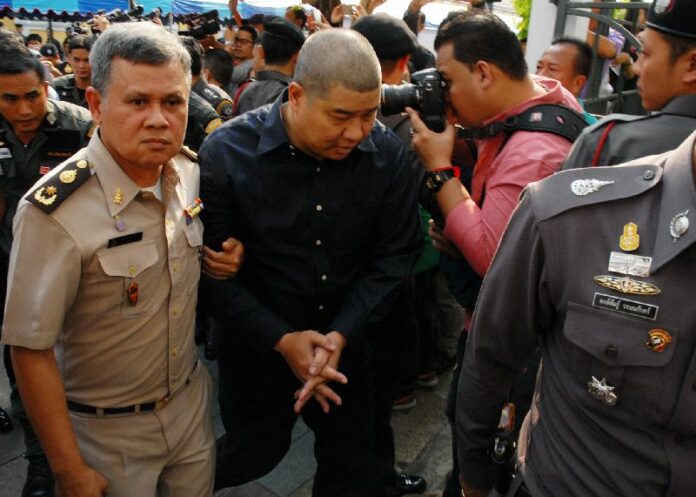 BANGKOK — The investigation into a police officer accused last week of defaming the monarchy has found evidence, a police source says, linking him to the disgraced former head of the Central Investigation Bureau, who was arrested for the same crime one year ago.
A police source told Khaosod the connection surfaced after police raided the residence of Police Maj. Prakrom Warunprapha, who committed suicide in custody Friday, where they said they found the same expensive guitars and rare Buddha figures confiscated in November 2014 from a trove of valuables sacked away by former CIB commander Pongpat Chayaphan.
Items seized from disgraced CIB chief Pongpat Chayaphan displayed to the public Dec. 11, 2014.
"Families of the suspects in Pongpat's network confirmed they were the same assets seized in the case," said the source, who requested anonymity because investigators are not allowed to speak to the press.
Pongpat fell quickly from a high position after he was accused of running a massive crime syndicate and exploiting his ties to the Royal Family to cover up criminal activities. Nearly 30 people were arrested in connection with the alleged crime ring.
The raid reportedly took place yesterday at the Lamaison Condominium in northern Bangkok, where 26 units were said to be registered in Prakrom's name.
---
'Royal Imposters' Suspect Involved in Past Lese Majeste Crackdowns
---
The source told Khaosod that police also found in a safe there amulets that belonged to an assistant of Pongpat, Police Col. Akkarawuth Limrat, who reportedly jumped to his death last year after being rolled up in the scandal.
In both crackdowns, influential figures were brought down by charges they abused ties to the monarchy. Police officials said on Wednesday they will announce more names of people facing arrest.
Asked today by a reporter whether the sudden replacement of Royal Thai Police spokesman Prawuth Thawornsiri was related to the ongoing investigation, police chief Chakthip Chaijinda said it was a rumor and ended the interview.
Prakrom himself was arrested Oct. 16 when police launched an investigation into what they described as "a group of individuals … falsely claiming [ties to] the High Institution to commit inappropriate acts." Two other men, Suriyan Sujaritpalawong and Jirawong Watanathewasilp, were arrested and charged with the same crime.
One week later on Friday, officials said Prakrom committed suicide inside a military holding cell at the 11th Infantry Division barracks, which has been converted into a special prison.
Both Suriyan and Jirawong are still alive and well, according to Witthaya Suriyawong, head of the Department of Corrections. He was responding to questions raised after a series of media reports suggested Suriyan was ailing.
"Mr. Suriyan and Mr. Jirawong are living normally. There's nothing worrying about them," Witthaya said today. "The prison has arranged wardens and soldiers to monitor them 24 hours. However, as for other details, I'd like not to disclose them for now."
Note: A blanket ban has been issued on reporting this issue, apart from official announcements and authorized disclosures. Due to this, portions of this story have been self-censored.
To reach us about this article or another matter, please contact us by e-mail at: [email protected].
Follow Khaosod English on and

Twitter

for news, politics and more from Thailand.