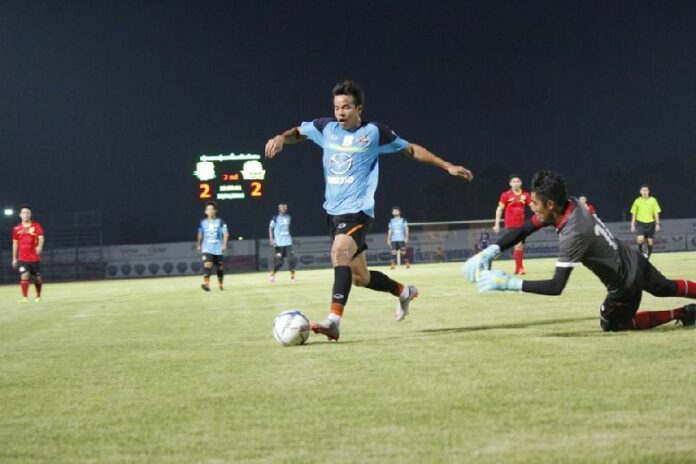 KORAT — A professional football player in Nakhon Ratchasima province has been accused of breaking into a woman's room early Friday morning and sexually assaulting her.
Promphong Kransumrong, the 30-year-old striker for Nakhon Ratchasima FC, was free on bail Monday after appearing briefly at a police station where he was charged with intruding into the woman's home and sexually assaulting her, an alleged crime one police officer characterized as "not a serious case."
"I think he will try to negotiate with the victim," said Damrong Rodphothong, interim commander of the Cho Ho Police Station. "It's not a serious case. He didn't use his force to [successfully] rape her or injure her."
According to the police report, the victim alleged that Promphong broke into her home at about 4am on Friday where she was staying alone and attempted raping her, but she managed to fight him off.
In a statement signed by football club manager Witthaya Nisaiyoke and posted on Facebook, the team said it would immediately fire Promphong if he's found guilty.
Lt. Col. Worachet Pongsuthathan, an investigative officer at Cho Ho Station, said Promphong met with police Sunday night and heard the charges of the nighttime break-in and sexual assault. He was accompanied by his lawyer and club manager.
Damrong, the Cho Ho police station commander, said Promphong declined to give any testimony to police, saying he would only testify in the court. He was released on bail.
An attempted rape as alleged by the victim in this case is one of a number of criminal offenses which can be settled out of court.
Teeranai Charuvastra can be reached at [email protected] and @Teeranai_C.