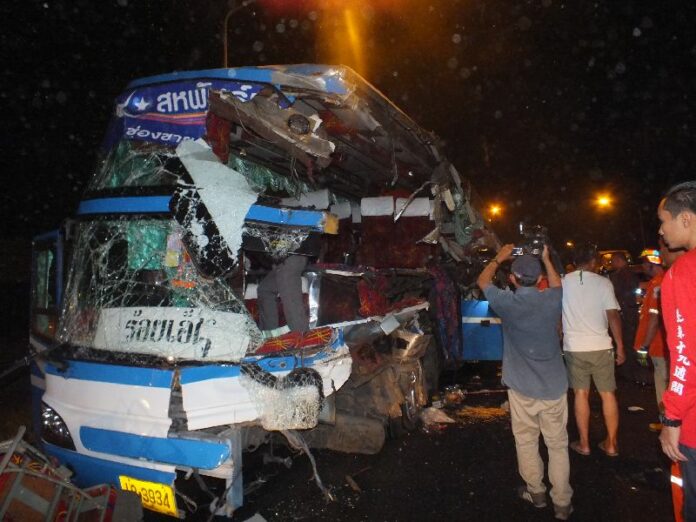 NAKHON RATCHASIMA — A bus crashed into a truck early Friday morning at Non Song district, killing four and injuring at least 19 police said.
The bus carrying 46 passengers was en route to Roi Et province from Bangkok when it hit a 18-wheel truck at around 2:20am Friday in Nakhon Ratchasima province.
A passenger who survived the crash said the bus was driving fast when the driver Pornsatit reportedly shouted "[I] can't brake" and crashed into the truck ahead.
Truck driver Jaroonkiat Tanjai, 35, said he was slowing down to prepare to pull into a weigh station when the air-con bus hit him from behind.
The bus driver, Pornsatit Wongtalae, reportedly fled the scene. Police are now searching for him, Lt. Col. Apinan Pleummalang of Non Song Police Station said over the phone Friday morning.
The bus belongs to Sahapan Roi Et Tour bus company based at Bangkok's Northern Bus Terminal.

Related Stories:
Chinese Tourists Injured in Phang Nga Bus Crash
Boy Injured When Bus Drives Into Post
Four Mexican Tourists Dead in Phichit Van Crash; Six Injured
Chayanit Itthipongmaetee can be reached at[email protected] and @chayaniti92.