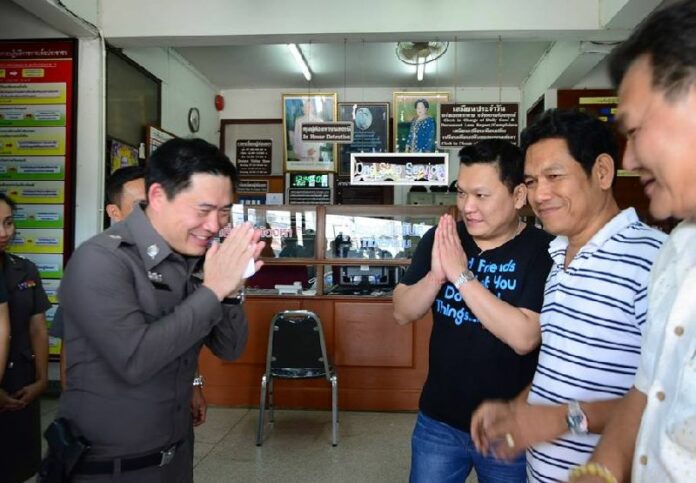 SONGKHLA — Two police officers in the border province of Songkhla are facing criminal charges for allegedly forcing a pair of Malaysian tourists to pay 20,000 baht for a bogus offense.
Lt.Cpt. Phuwanart Noampan, 37, and Sen.Sgt.Maj. Hanchet Madadam, 41, are also suspended from the police force until the court reaches its verdict, the commander of Songkhla police Krissakorn Plithanyawong told reporters on Friday.
"We will be fair to all sides involved," said Maj.Gen. Krissakorn. "For the moment, we have suspended the two officers."
According to Krissakorn, police received a complaint from two Malaysian tourists that they were stopped at a border checkpoint manned by Phuwanart and Hanchet on Thursday morning. The two suspects reportedly searched the tourists' vehicle, found an e-cigarette and demanded a 20,000 baht fine.
The tourists negotiated and eventually settled for paying 500 Malaysian Ringgit (around 4,300 baht), Krissakorn said. The pair then reported the incident to police in Hat Yai district, prompting them to launch an investigation.
Both Phuwanart and Hanchet serve at Sadao Police Station. They surrendered themselves to police on Friday, upon which they were charged with extortion and unlawful detention. The suspects deny the allegations.
Krissakorn said police have returned the 'fine' to the two tourists and offered an additional 5,000 baht in compensation, but the Malaysians declined the extra money.
"They said they're already happy that police were fair to them and took care of the case quickly," the police commander said.
Related Stories:
Koh Samui Vendors Protest Police 'Extortion'
Two Cops Fired for Allegedly Extorting Japanese Businessman
Chinese Businessman Says He Was Extorted by Thai Police
Teeranai Charuvastra can be reached at [email protected] and @Teeranai_C.