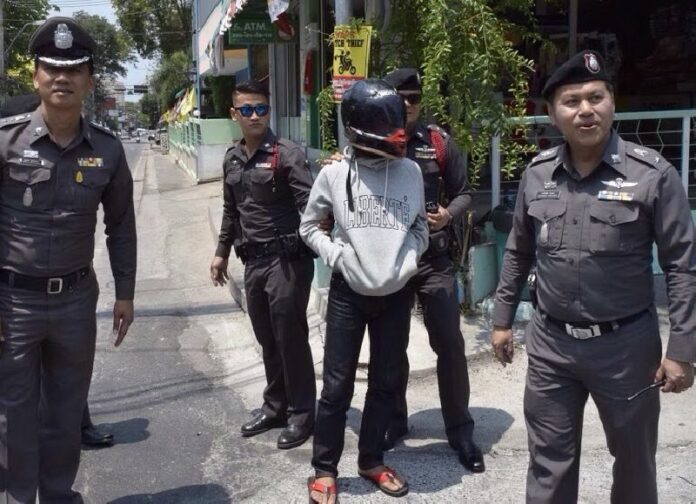 PATTAYA — A 17-year-old boy was arrested in Pattaya on Friday for allegedly stealing a Russian tourist's bag, less than a year after he served a jail term on similar charges.
According to police, the youngster and his friend rode a motorcycle and the 17 year-old snatched the 37-year-old male tourist's bag in Soi Pattaya 16 on Sunday night before they sped away. The bag contained cash, an Iphone, and travel documents, police say.
He was later arrested on Friday and taken to 'reenact' his alleged crime in Soi 16. The other suspect, who police said is also a minor, is still at large.
Police officers said at yesterday's 'crime reenactment' session that the youth was previously arrested for theft and sent to a juvenile prison. The suspect said he was released a year ago and had been stealing from foreign tourists in Pattaya ever since, police told reporters.
The suspect is now facing charges of theft with the aid of a vehicle, which carries a heavier sentence than if committed on foot.
Teeranai Charuvastra can be reached at [email protected] and @Teeranai_C.
Follow Khaosod English on Facebook and Twitter for news, politics and more from Thailand. To reach Khaosod English about this article or another matter, please contact us by e-mail at [email protected].