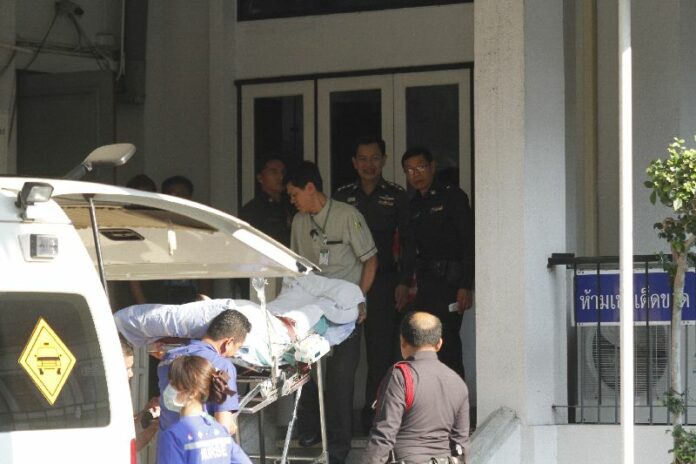 By Teeranai Charuvastra
Staff Reporter
AYUTTHAYA — Police have filed additional charges against a driver who caused two to die in a flaming wreck Sunday for refusing a sobriety test in the aftermath of the crash.
Previously, Jenphop Viraporn, 37, was only charged with fatal reckless driving for the Sunday's collision on Ayutthaya highway. The case sparked accusations on social media that police were shielding Jenphop because of his standing as a wealthy owner of a luxury car company.
National police deputy commander Pongsapat Pongcharoen said police Friday filed charges of driving under the influence and obstruction of justice against Jenphop after hospital nurses told him that the suspect refused to be tested for alcohol and drug use.
"They confirmed that police officers told him to get a blood test, but Mr. Jenphop refused," Gen. Pongsapat told reporters after visiting the hospital in Ayutthaya today. "Mr. Jenphop said, 'No, sir, I cannot let you do a blood test, because I'm afraid of needles.'"
Pol.Gen. Pongsapat Pongcharoen talking to one of the nurses on Friday.
Pongsapat said Jenphop then requested to be transferred to Samitivej Hospital in Bangkok, where he is still being treated for what police described as knee and head injuries.
Under a recently enhanced law, motorists who refuse alcohol and drug tests are automatically considered guilty of being under the influence.
Jenphop stands accused of slamming his Mercedes-Benz into another car on Ayutthaya highway at high speed, killing two people inside. Both victims – Krissana Thaworn, 32, and Thanthapat Horsaengchai, 34 – were killed after flames engulfed their car. They were both graduate students at a university in Bangkok.
Police on Friday brought Jenphop to the Ayutthaya Provincial Court for his bail hearing. According to Pongsapat, the court subsequently granted him bail on the condition that he does not drive, travel outside the country and must report to police every 12 days. His bail was reportedly set at 200,000 baht.
Jenphop arrived and left the court on a stretcher. Reporters were not allowed inside the courthouse. His lawyer, Charoen Kaewyodlah, declined to answer reporters' questions.
Officers Removed
The first several days that followed Sunday's collision were marred by delays in the investigation and outcry on social media over why Jenphop was not tested for substances at the scene.
Many voiced fear that police will be lenient on Jenphop, owner of an import car company called Luxotic and son of a wealthy businessman.
"This case is not an accident, it's clearly, clearly, clearly intentional! Look at how fast he was going!" Facebook user Supawad Keawpannai wrote in a comment on Facebook page CSI LA, which has been campaigning for impartial police work on the case. "But it it will be the same. He will escape jail with no trouble at all, because the law only benefits the rich and the powerful."
Another user, Somchay Nitimongcolchai , wrote in the same page: "Hey, CSI LA admin, you want to bet with me? I say this case will just disappear with the wind. You can only spark controversies, but ultimately everything will be the same like in previous controversies. In Thailand, the rich are the bosses."
After criticism intensified and spread, the national police responded by replacing officers in charge of the investigation with a new team, and setting up a committee to find out whether officers were negligent.
The head of the police station overseeing the case against Jenphop has also been transferred to an inactive post.
Related Stories:
Businessman Charged for Fatal Collision Amid Mounting Criticism
Officers In Charge of Ayutthaya Deadly Collision Removed
Jenphop Plowed Through Toll Booth Before Deadly Crash (Video)
Teeranai Charuvastra can be reached at [email protected] and @Teeranai_C.