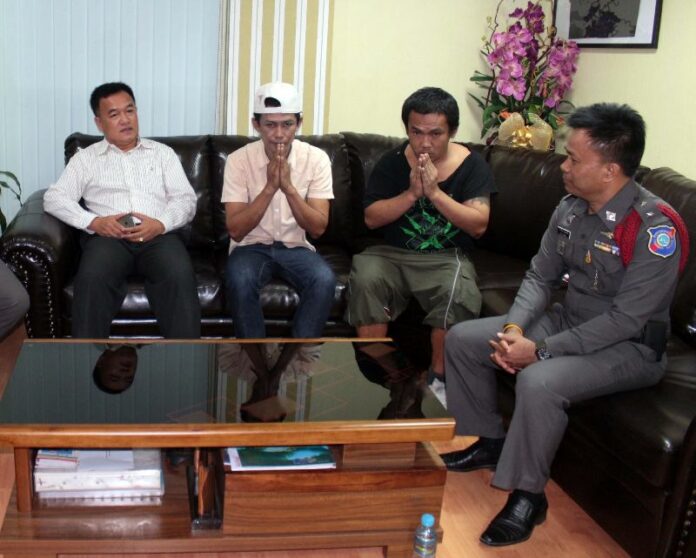 PATTAYA — Police announced yesterday they have arrested the vendor who punched a Russian tourist on Pattaya's Walking Street.
Wilas Thongchaem, 37, was brought before the media for a public display of contrition at Pattaya City Police Station on Thursday, where he said he struck the 45-year-old Russian in the face because he refused to buy his sexual enhancement products – and spat at him.
The suspect said he's sorry for tarnishing the reputation of Pattaya, a resort town known for its widespread sex industry and frequent crimes involving foreigners.
"I'd like to apologize to the people of Pattaya and business operators," Wilas said. "I did it out of anger."
According to Wilas, he and a fellow vendor tried to sell the Russian on sexual enhancement products and a sex show on Walking Street. The Russian refused, and an argument soon broke out. Wilas said the tourist spat at him during the dispute, prompting him to punch him in the eye before fleeing the scene.
Pattaya City Police Station commander Sukthat Pumpanmuang said Wilas has been charged with physical assault.
Related stories:
Sex Worker Arrested for Attacking Italian Tourist in Pattaya
German Drugged, Robbed in Pattaya Recovers Stolen Items
Young Recidivist Arrested for Snatching Tourist's Bag in Pattaya
Bank Security Guard Threatens Australian Man With Gun in Pattaya
Teeranai Charuvastra can be reached at [email protected] and @Teeranai_C.