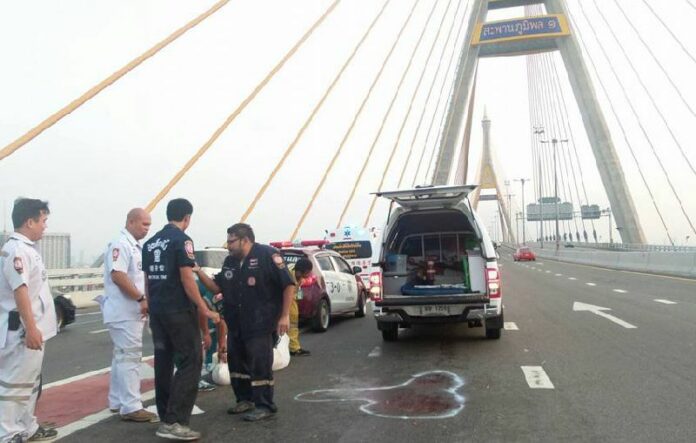 BANGKOK — Nearly a month after police started banning motorcyclists from using Bhumibol Bridge, a policeman is being investigated for riding one across it Monday and ending up in a wreck that killed his girlfriend.
The accident came the same day more than 80 people sued to repeal the controversial ban, which bars motorcyclists from nearly 40 bridges and flyovers in Bangkok, including the site of Monday's incident.
---
Hundreds of Motorcycles Briefly Block Bridge
---
Among those to flout the ban was Lt. Chaiyan Thongkumchoom, 30, who rode in a group of motorcycles with his 23-year-old girlfriend onto the bridge early Monday morning. Chaiyan lost control of the motorcycle, sending Kwanruthai Chainakin tumbling onto the road where she was crushed by an oncoming truck. She died at the scene.
According to police reports, Chaiyan was consumed with grief and fired his handgun six times into the air. He also tried to shoot himself, but friends traveling with him on other motorcycles restrained him until police arrived.
Interim Bangkok police commander Sanit Mahatavorn said Tuesday that Chaiyan, who remains hospitalized, will be charged with fatal reckless driving once he's released. Lt. Gen. Sanit, whose agency issued the March 30 ban, said Chaiyan will also face a disciplinary investigation for disregarding the order.
"As a police officer, he should have known about it. Yet he disobeyed it, and it led to this incident," Sanit said.
Battle Over Bridges
Bhumibol Bridge was also the scene of a brief show of civil disobedience by hundreds of motorcyclists on March 31. The riders blocked the outbound lanes for several hours to protest the ban.
According to the Metropolitan Police order, motorcycles, bicycles and tuk-tuks cannot use the 39 flyovers and six underpasses in Bangkok because they lack a lane for slower vehicles.
Police said the ban was meant to improve traffic flow in the capital and protect motorcyclists from frequent accidents on some of the taller, wind-swept river crossings such as Bhumibol Bridge. Affected motorcyclists were advised, after the fact, to use ferries to cross the river.
But the ban enraged motorcyclists who say the flyovers and bridges are vital points of daily commute. Some riders accused police of taking advantage of the ban by setting up checkpoints to rake in fines.
"What is this issue really about, other than revenue from fining motorcyclists? Each month, [the fines] allow many police officers to have money to buy expensive cars, luxury houses and pay for girls in karaoke bars," wrote Facebook user Novz Suebpong on a Facebook page dedicated to publicizing the locations of police checkpoints.
The outrage translated into legal action Monday when 80 motorcyclists put their names as plaintiffs and asked the Administrative Court to repeal the ban.
The plaintiffs were aided by Help Crime Victims Club, an NGO which contests unfair fines of motorists. Atchariya Ruengrattanapong, who heads the group, said the ban exerts an unnecessary burden on millions of people's right to commute in the capital. It also increases commuters' travel times and costs, he added.
"Solving traffic and accident problems can be done by other legitimate and correct means, without affecting the right and liberty to travel and the livelihood of the people," Atchariya said in Manager Online.
Acting metro police chief Sanit said motorcyclists have every right to sue his agency, but he defended the ban as a reasonable way to keep motorcyclists safe.
"When we issued the law forcing people to wear safety helmets, some people protested and resisted, too. They said it put a burden on motorcyclists," Sanit said. "But when accidents happen, who has benefited from it?"
Teeranai Charuvastra can be reached at [email protected] and @Teeranai_C.
Follow Khaosod English on Facebook and Twitter for news, politics and more from Thailand. To reach Khaosod English about this article or another matter, please contact us by e-mail at [email protected].