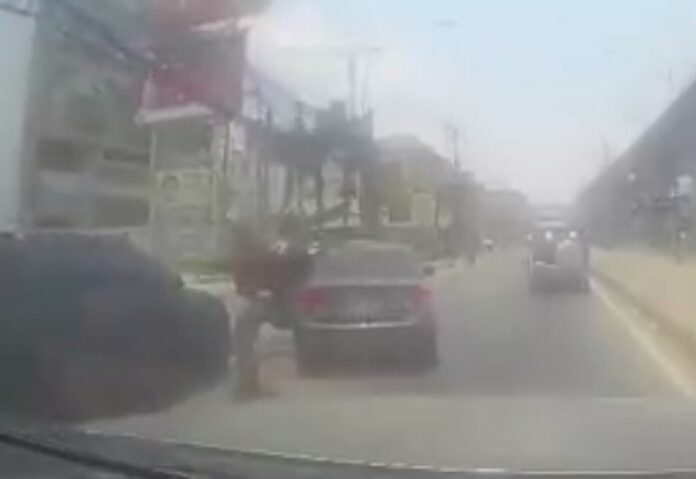 BANGKOK — The Commander of a police station in Bangkok said today that five gunmen who opened fire on a pick-up truck in broad daylight were police officers from another police station, a claim denied by the deputy chief of the latter station.
The shooting, which was widely shared on social media from footage captured on a dashcam, reportedly took place around noon Wednesday at a gas station on Rattanathibet Road in northwest metro Bangkok. Witnesses told media five men in a car tried to stop a pick-up truck and shot at it, but the driver managed to escape the scene, followed by the pursuers.
Ekkaphop Tanprayoon, head of the local Bang Yai Police Station, said Friday that the five men seen in the video were police officers from Thoong Song Hong Police Station, who were chasing after a criminal suspect at the time.
He declined to answer other questions about the pursuit, including why they were not dressed in uniform, and whether they followed police conduct by opening fire in a public area.
"They're from Thoong Song Hong [station]. You have to ask them," Col. Ekkaphop said.
Police question witnesses at the gas station on Friday
But Piphop Sukkam, deputy commander of Thoong Song Hong Police Station, said he's not aware of any of his officers going on any pursuits on Wednesday.
"It's not our team, it's not our people," Lt. Piphop said, though he added that he has not seen the footage from the viral video.
Furthermore, he said, his station has no policy of making arrests in other jurisdictions. "We don't go out to arrest people outside our area," Piphop said.
Thai police have a long record of operating, and even using firearms, in plainclothes without any identification marking them as law enforcement officials.
Related stories:
Journalists Condemn Undercover Police For Posing as Reporters
Police Admit to Shooting At, Arresting Wrong Men in NE Thailand