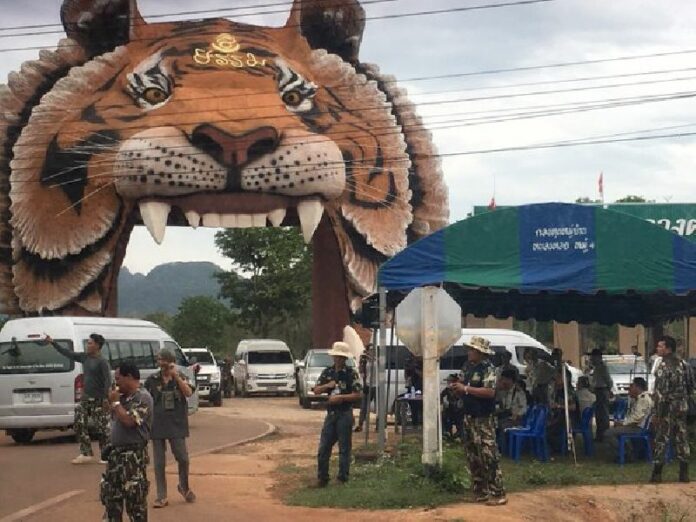 KANCHANABURI — Conflict was brewing once again at the Tiger Temple this morning when it refused to hand over its tigers to wildlife officials.
Over 1,000 national park officers arrived at the Tiger Temple in Kanchanaburi province at around 9am on Monday and as of noon were attempting to negotiate the animals' removal.
Prattana Intawong, a veterinarian with activist group Wildlife Friends Foundation Thailand, said her crew has been waiting for the big cats at a veterinary hospital near the temple, known as Wat Pha Luang Ta Bua Yanasampanno.
"The hospital is about 10 minutes from the temple," she said. "The national parks department is now negotiating. We're now just waiting for the result and order."
Calls to temple lawyer Saiyood Pengboonchoo weren't returned.
As announced by officials on Sunday, the remaining 137 big cats at the controversial temple would be removed today to new homes in Ratchaburi province, despite last month's approval of a zoo license for the temple which seemed to clear legal hurdles to it keeping them.
Wildlife officials are hoping to transport 20 tigers per day from the temple, a commercial operation which brings in millions of baht and has been accused of trafficking the very animals it claims to protect.
All tigers would be removed within one week, Adisorn Noochdamrong of the Department of National Parks, Wildlife and Plant Conservation said Sunday afternoon.
That's if they can win cooperation from the temple, which has refused to cooperate with inspectors and one year ago famously mobilized hundreds of its followers to barricade the entrance to keep officials out.
Should the temple offer defiance, Adisorn said a court order would be sought.
This latest encounter resembles several frustrated efforts by officials to take action in the past, in which the temple succeeded in fending off attempts to remove its tigers.
Ten big cats have been removed from the controversial temple on two occasions: Five in January and another five in February. They were relocated to a wildlife research station in Ratchaburi province on the temple's understanding it could buy them back once it had won approval to operate as a zoo.
The Tiger Temple is located at Kanchanaburi's Sai Yok district and as of January was believed to possess 147 tigers.
Related stories:
Activist to Sue Over Tiger Temple Zoo Permit
Tiger Temple to Reapply After Zoo Permit Denied
5 More Big Cats Removed from 'Tiger Temple'
'Tiger Temple' to Sue NatGeo Over Damning Report
Temple Refuses to Release Tigers, Again
'Tiger Temple' to Give Up Big Cats, Activist Says