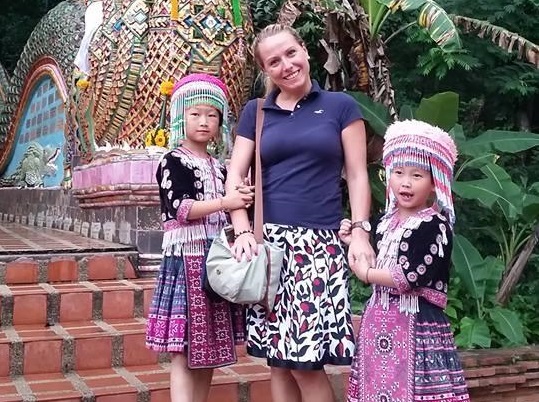 CHIANG MAI — Two young Hmong girls described as "tiny thieves" in headlines the world over were allowed back to the Chiang Mai temple where an unidentified tourist recently said they stole a watch.
Read: Hmong Parents Protest Children's Conviction by Reddit
Investigating the case after an image went viral last week, police said they found no evidence the two girls, 7 and 10, stole the wristwatch at Wat Phra That Doi Suthep. They were freed and will return to the temple this weekend to pose for photos with tourists, police Lt. Col. Anek Chaiwong said Thursday.
"There's no evidence the girls stole the watch," the deputy of Phuping police said.
He said officers had reviewed security camera footage, which was complicated by the no one knows when the alleged incident took place.
A photo of a farang woman with two girls dressed in traditional Hmong clothes was posted on Reddit on Sunday with the caption "Girlfriend in the progress of having her watch stolen."
In the comments, the user, who has since deleted his account, suggested the watch had gone missing and they decided the girls must have stolen it when they later saw the image. He also mentioned being "a bit drunk" at the time.
Nonetheless, tabloid media around the world ran with it without scrutiny as proving their guilt.
Police said they have been unable to identify the tourists.