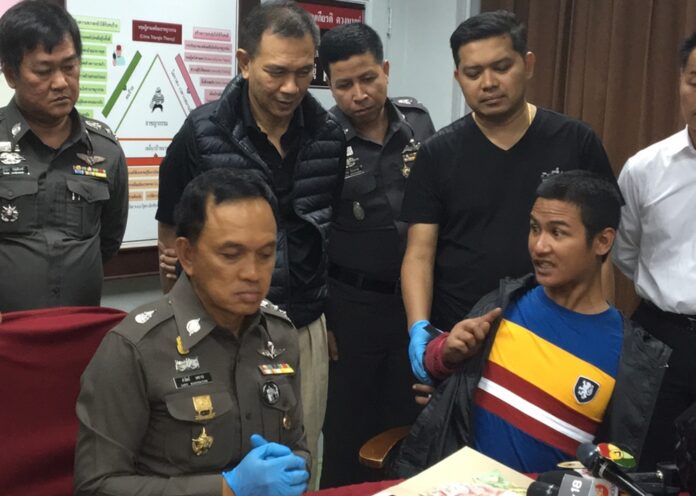 BANGKOK — A 26-year-old former convict confessed Friday to stabbing a man to death in northern Bangkok to rob him of his iPhone, an attack that went viral on social media due to its brutality.
Kittikorn Wikaha, who police said has served eight separate terms in prison, was being led through a police "re-enactment" of the alleged crime at 11am after being arrested at his residence earlier in the morning.
He is charged with killing Vasin Lueangcham in Soi Sukhonthasawat 27 on Wednesday night. According to police, Kittikorn said he killed his victim because he resisted.
Speaking at a news conference, Kittikorn advised members of the public to think twice before flaunting their wealth at night lest they also end up as victims.
"Try not to put yourself at risk," the alleged murderer said. "What's valuable, keep it safe, don't show off. The more you show off, the more tempting it is."
In the security camera footage of Wednesday's attack, Vasin is seen being stabbed repeatedly by the attacker as his accomplice waits on a getaway motorcycle. The victim tries to defend himself until he is knifed in the throat.
Bangkok police chief Sanit Mahatavorn said the suspect also went on to rob two more victims of their iPhone and cash after killing Vasin that night.
Kittikorn had been jailed eight times since 13, mostly on drug-related convictions; his latest sentence just ended Dec. 14, Lt. Gen. Sanit said. He added that police are still looking for Kittikorn's accomplice.
A large crowd was gathering at the scene of the crime Friday morning where police planned the "re-enactment," some holding signs demanding that Kittikorn be executed for his crime.
"Murderers must be executed," several signs read.