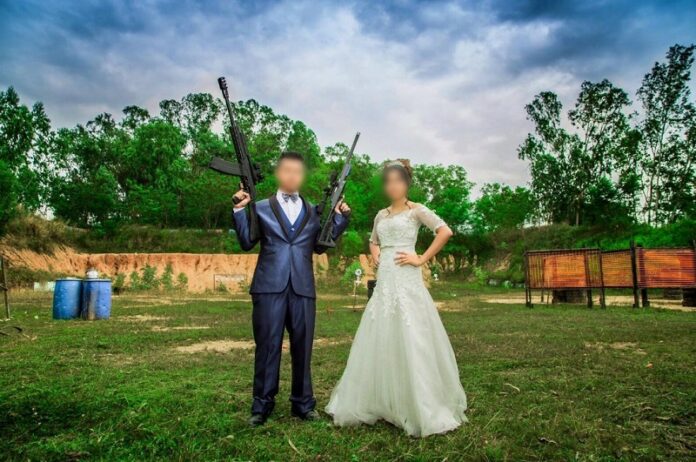 CHONBURI — A newlywed man turned himself into police Monday after celebratory gunfire at his wedding killed a man in a widely watched case that has provoked outrage.
Sumet Lomrob admitted to owning at least one of the weapons fired during Sunday morning's wedding parade in Chonburi province which killed a neighborhood man. A fifth member of his wedding party turned himself in Tuesday, joining four who told police they fired guns during the celebration.
Thanet Kinwong, 37, was sitting in front of a friend's home when a bullet suddenly struck the left side of his chest. It was one of many fired into the air from Sumet's wedding parade approximately 100 meters away. He died instantly.
"I want to know what their hearts are made of," said Thanet's 46-year-old wife, Weerawan Suppachon. "Why did they dare fire a volley of shots in a residential area, where there are hundred of homes?"
When police later came to the wedding party to inquire about what happened, no one would give them information. Sumet, 25, appeared with his new bride in wedding photographs brandishing what look like assault rifles.
Their carelessness and subsequent reluctance to take responsibility drew widespread scorn after being called out in heavy media coverage.
"It's your wedding but then you make it someone else's funeral," Facebook user Nakorn Wachirawarangkul wrote among thousands to comment on the story. "Your parents have raised you until you can get married and have your own family. How come you cannot know it is inappropriate to fire shots just for fun?"
Police said they have yet to determine which gun fired the shot that killed Thanet.
Four men had earlier turned themselves in late Sunday night, admitting to shooting guns during the parade: Wasin Kongkaew, 20; Arthit Lomrob, 20; Jirapat Lomrob, 20 and Tinnaphat Charoensiri, 23.
After turning himself in the next day, Sumet confessed to owning one of the guns used by his friends and relatives. He was charged with illegal weapons possession and freed on a 50,000 baht bail bond.
On Tuesday, another groomsman, Sahaphab Saboorum, 21, joined his four friends at the police station, saying he had also fired shots.
The five have been charged with illegally possessing and carrying firearms and discharging them in a public place.
They were denied bail and were due for a hearing in a Pattaya Court on Tuesday afternoon, according to police Lt. Col. Prasith Mansri.
https://www.youtube.com/watch?v=yF3UOClJRlY