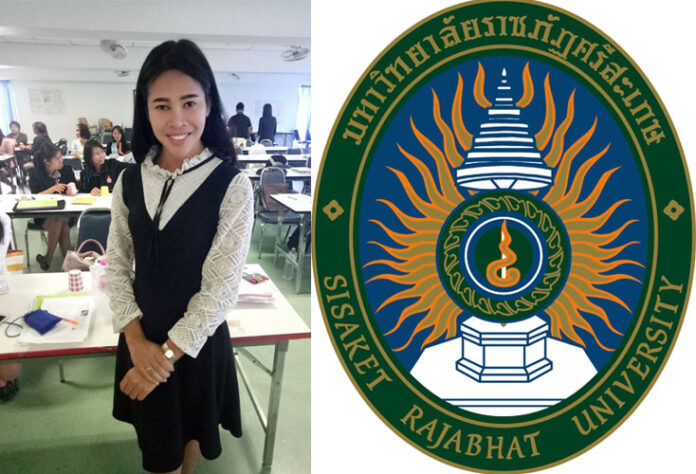 BANGKOK — A gender rights group on Friday said a college dean in the northeast verbally abused a transgender adult student in front of her classmates by threatening , while the teacher said he was only making a joke.
Dulyaphat Mangkharat, who's training at Si Saket Rajabhat University to become a teacher, complained online Sunday that her professor asked her why her dress did not match her gender at birth, and mockingly asked if he could touch her genitals to be sure.
The Thai Transgender Alliance said in a statement released to the media Friday that such discriminatory remarks against transgender people are illegal under a gender equality bill enacted in 2015. The group also called for an end to sexual harassment of transgender people in society.
"They [the public] must not engage in sexual intimidation or harassment through physical and verbal expression, which includes mocking, teasing and creating an atmosphere that makes the other side uncomfortable," the statement said.
Read: Their Visibility Belies Scorn, Harm Transgender Thais Face
Dulyaphat wrote that her professor, education faculty dean Udomphan Pitchprasert, was calling attendance and noticed that she was dressed as a woman despite being registered as male on the roster. According to Dulyaphat, the professor then made a series of verbally abusive comments.
"Dulyaphat, you are a man, why are you dressing like a woman?" she quoted Udomphan as saying. "Your name is also male. You still have a dick, right? I will tell your friends to hold you down, and I will undress you so I can see whether you have pussy or a dick."
Her post was shared nearly 1,200 times since posted. She did not respond to a message seeking comment but posted a message that she would not speak to the media about the incident while she's preparing a formal complaint under the 2015 Gender Equality Act.
Reached for comment, the dean did not deny making the comments. He also said he was "only making a joke," and that he had no intention to discriminate against her.
"We were teasing in a local dialect. It conveyed affection. People of Isaan know how it is, but Bangkok people may understand things differently," Udomphan said. "There was no sexual discrimination. I only want my students to dress correctly in their genders."
At most universities, students are required to dress according to their gender at birth, a rule that gender rights groups have been campaigning to overturn for years.
Related stories: 
Mainstream Media Trades in Worst LGBT Stereotypes, Review Finds
Thammasat Cites Risqué Lipstick for Rejecting Transgender Prof
TU Vice Rector Defends Threats Against Transgender Student Activist