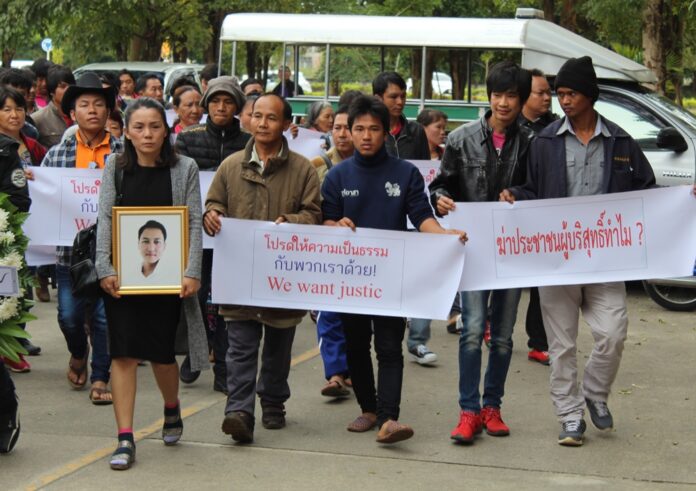 CHIANG RAI — An administrative official in Chiang Rai province was under police custody Friday for allegedly shooting a motorist dead at a checkpoint earlier this week.
For the alleged shooting and killing a motorist Tuesday night, deputy community head Wutthichai Injai was charged with premeditated murder, which local police said he denies. The deadly shooting has amplified criticism of the safety of such checkpoints routinely set up by armed security officers in rural Thailand.  
"We have only one suspect at the moment," Mae Suai Police Station chief Col. Vicharn Churit said Friday. "He was denied bail."
Vicharn stressed the investigation is far from complete and only two witnesses have been questioned. He said the arrest was partly spurred by a protest of about 100 people who gathered outside his station Thursday to demand justice.
"To put it frankly, we're under a lot of pressure in this case," Vicharn said.

Sorachai Sathitraksadumrong, a 35-year-old general contractor, was driving with his girlfriend Tuesday night on the road between Chiang Mai and Chiang Rai when he was flagged down by a group of officers. Police said Sorachai did not stop, at which point Wutthichai fired three shots. One round struck Sorachai in the head, killing him instantly.
Wutthichai maintains he only intended to fire warning shots.
Dashcam video released by Sorachai's family shows the car driving past the checkpoint shortly before it crashes into the side of the road.
Vicharn said the checkpoint was manned by local administrators from a nearby community to look out for drunk drivers. He added that the suspect was licensed to carry a firearm.
"They were taking care of people in their community," the police colonel said. "They didn't have power to arrest anyone."
Checkpoints set up by various security units, unsworn police volunteers and soldiers are a common sight across the country. Some of them carry guns. Sorachai's killing prompted complaints that such checkpoints can do more harm than good.
"When will they remove all these volunteer cops who are not real cops?" user Paranee Panmak wrote in a news thread. "Please remove them so they won't endanger other people. I was in Chiang Rai. There are a lot of these checkpoints, but not a single cop. They only caused traffic jams."
"I was also in Chiang Rai during the New Year holidays," Meaw Napawan wrote in the same thread. "I even ran into a checkpoint that had no lights at all. I was very frightened."
Sorachai's sister said he was the main breadwinner of the family.
"He worked for his family. He never abandoned us. Even when he had no money, he wouldn't tell us," Pornthip Jayor said at Sorachai's funeral Thursday. "The house we lived, it's all from him. He paid for my studies until I completed college."