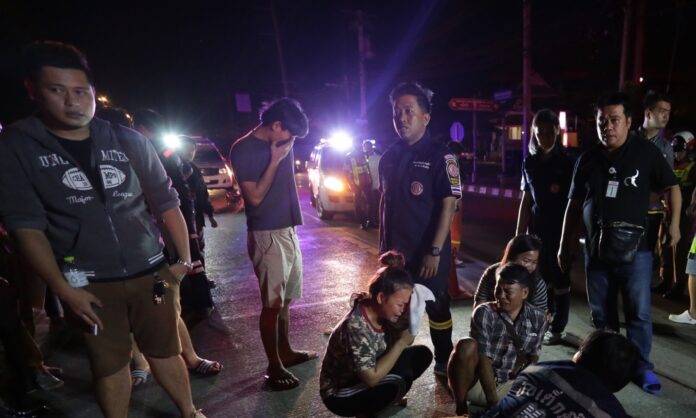 BANGKOK — The driver appeared drunk during a rampage in which he drove his school van into pedestrians, knocking down a motorcycle, injuring the rider and killing the passenger.
That's what witnesses told police Friday, who are now hunting for the suspected driver, Warot Choosang, who went on a murderous spree while reportedly searching for the wife who'd fled abuse at his hands.
"He pulled up the school van in front of the apartment at about midnight," witness Taweesap Mankit told police. "He came out drunk and yelled for someone named 'Yom,' but no one knew who that was, so I told him nobody with that name lives in this building."
He said Warot got into the van and drove it into a motorcycle parked nearby. Residents tried to block the vehicle with a bench before he crashed into it. He then hit two other cars and drove off, Mankit added.
Yot Worachotwong, who witnessed the crime, said it appeared to be intentional.
"I saw a motorcycle riding at speed along the street, and a van smashed it from the back," he said. "It fled the scene immediately."
Thitisak Sooksujit, 15, died at the scene, while rider, Weerapol Sachae, 23, was taken to hospital and treated for minor injuries.
Capt. Wisarut Thaichan-at from Taling Chan police station said the alleged perpetrator works at a local school and was looking for his wife, who ran away after he physically assaulted her in a jealous rage.
"She came to stay with her mom, who lives in that apartment," he said. "After the incident he called the mother, saying he wanted to break up with his wife, telling her that he killed someone."
He added that police are in the process of gathering and reviewing evidence.