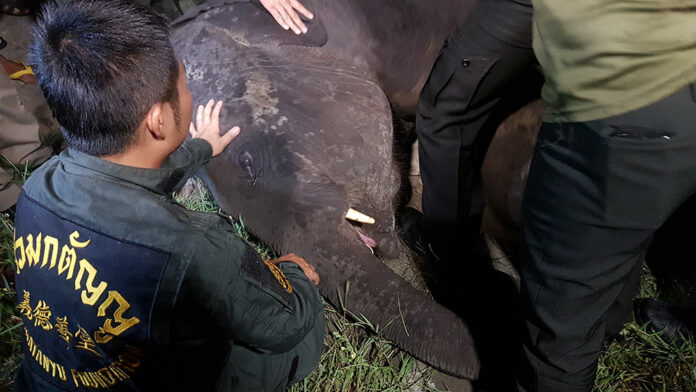 SAMUT PRAKAN — Down the road he was led, forced to sell food. Two mahouts were driving the 10-year-old elephant when he fell through a makeshift drainage cover. As the scared animal fell in, so did nearby electric wires, electrocuting the animal. He died an hour later.
On Saturday, the day after, police filed criminal charges of animal cruelty and illegal transport against the two mahouts.
A large rescue effort was mounted after all four of the elephant's legs fell into the meter-wide drain. Rescue workers used a mobile crane to lift it out and contacted the provincial livestock office, which sent a vet team. When the elephant fell unconscious and stopped breathing, the vets performed CPR but couldn't save it.
One of the two mahouts, 15-year-old Pansa Yanamkham, told police they had been renting the elephant for many months from its owner in Surin province.
Preliminary investigation suggested the electric cables were from a nearby restaurant.
Padej Laithong, director of the regional conservation department, said the elephant was microchipped, and the Samut Prakan livestock will perform a DNA test to confirm whether it matches registration data recorded for all legally owned elephants.
The elephant was returned to its owner in Surin for a funeral under supervision of the livestock department.
Police have filed four charges against both mahouts, including illegally transporting an animal and animal cruelty. The owner, whose name has not been released, also faces illegal transport charges.