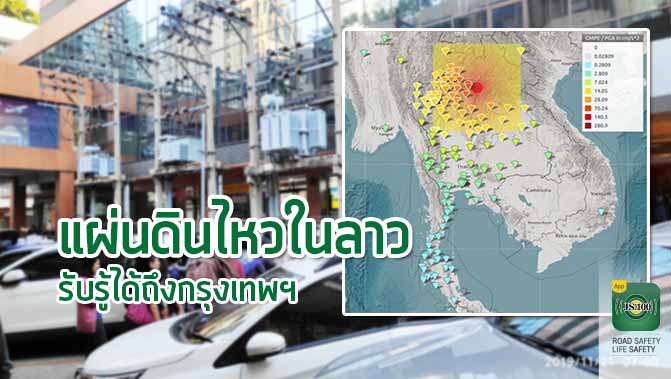 BANGKOK — Bangkokians got jolted out of their bed and at their workplaces by an earthquake Thursday morning.
The 6.4-magnitude quake, originated from Laos, struck at about 6.50am and sent vibration that could be felt on tall buildings across the capital. A smaller foreshock of 5.9 magnitude was also reported at about 4.03am.
Many took to social media to report the experience.
ชั้น 21 พิกัดแยกติวานนท์ นนทบุรี #แผ่นดินไหว อารมณ์เรือในทะเล 😰😰😰 pic.twitter.com/SqvLCfFpKY

— Kimborav (@kimborav) November 21, 2019
เมืองทอง #แผ่นดินไหว ไหมคะ คอนโดชั้น30+ โยกมากตั้งแต่เมื่อคืนแล้ว ประมาณช่วง ตี3-4 ก็รอบนึง เมื่อกี้ช่วงก่อน 7โมงอีกรอบ @js100radio pic.twitter.com/n33R90FMcO

— gai♡ (@gaibidibbidib) November 21, 2019
RT@GameBoy_Advance
06:58 เห้ยยยย !!! แผ่นดินไหวชิดลม 😳#แผ่นดินไหวpic.twitter.com/70qejgn1Kg

— JS100 (@js100radio) November 20, 2019
No damage or injury has been reported so far. ThaiPBS quoted a seismologist as saying that building integrity of skyscrapers in the capital should be safe, as the quake took place far from here.