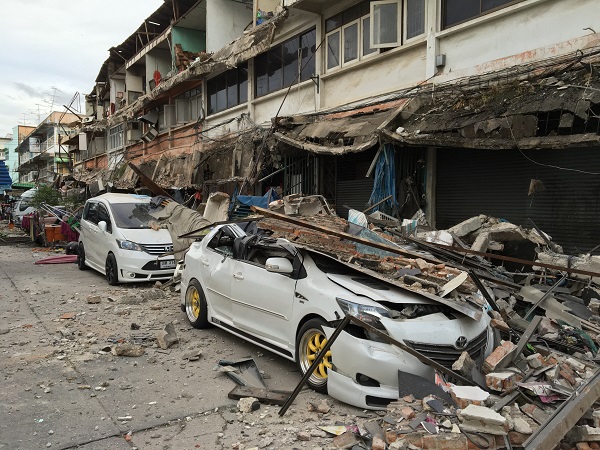 BANGKOK — Residents were briefly trapped inside a building in the Chatuchak district after 12 shophouses suddenly collapsed there Wednesday evening.
The outer wall of a row of shophouses near the Prachaniwet 1 Market came crashing down at about 6pm, trapping several people inside. No one was reported injured, but  at least seven cars and two motorbikes were damaged.
The incident caused a power outage in the area. Police said officers were eventually able to free the people stuck inside.
Pol. Col. Samard Promchat said the three-story, government-owned shophouses were built in 1982 and condemned two years ago due to flood damage from 2011. The residents were asked to move out several times, he said, but many refused to leave.
"They had a deep bond. They didn't want to move out because they lived there for a long time," the chief of Prachachuen police said.
Samard said police are investigating the cause of the collapse.