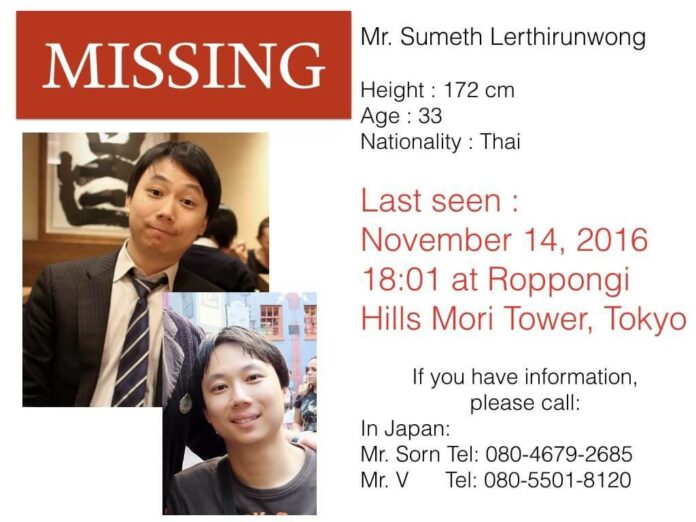 Update: A Facebook page set up by Sumeth Lerthirunwong's friends said on Friday afternoon that he's been located alive and well. 
BANGKOK — Friends and family of a missing Thai expat in Tokyo were pleading for information Thursday about his whereabouts, three days after he went missing.
Sumeth Lerthirunwong was last seen leaving the bank where he worked Monday evening in Tokyo's Roppongi district, according to a Facebook page created to call attention to his disappearance. Sumeth had not shown any signs of distress before he went missing, the post said.
"He's a cheerful and sociable man. His health is normal. There were no sign of any problem that would prompt him to run away on his own," said the post, which was updated Wednesday night.
The page said police and the Thai embassy in Tokyo have been alerted, and so far no hospital in the area has admitted Sumeth, who works at Barclays Capital. His credit cards had not been used since his disappearance, according to the page. His passport was reportedly left at his residence.
Sumeth's brother said he had no previous history of mental illness, drug use or conflict with anyone. Nipon Lerthirunwong said he's attending a meeting with Thai consulate in Japan on Thursday, and his family remains hopeful.
"Of course we still have hope," Nipon said in an online chat, adding that it was Barclays who informed him of his brother's disappearance.
Anyone who has information of Sumeth's whereabouts is urged to contact his friends and family in Japan at 080-4679-2685 or 080-5501-8120.