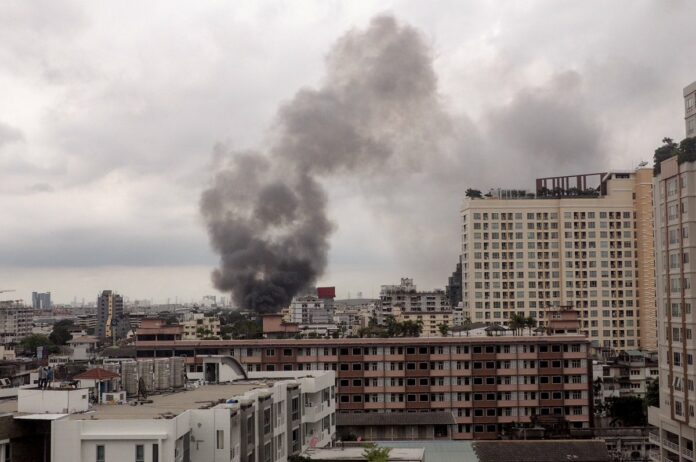 BANGKOK — A large plume of smoke was hanging over Bangkok on Thursday after a fire broke out in a shanty community in the Saphan Khwai area near Soi Pradipat 23.
Flames erupted near Wat Phai Tan at about 2:40pm. Firefighters were working to put out the blaze.
On Friday, police Maj. Jiraporn Montontong said no one was injured in the blaze, which caused by a short circuit. Ten households were destroyed, however.

Update: This story has been updated with more information about the fire.
14:43 เพลิงไหม้บ้านเรือนปชช. ภายในซ.ประดิพัทธิ์23 ถ.ประดิพัทธิ์ เขตพญาไท ล่าสุดจนท.ดับเพลิงกำลังดำเนินการ cr.สังคมดับเพลิง ,FIRE&RESCUE pic.twitter.com/lTNLCOJKgS

— JS100 (@js100radio) June 8, 2017
ไฟไหม้ ประดิพัทธิ์ ซอย 23 @js100radio pic.twitter.com/poEkIV7vUx

— Noo-Gook (@NooGook) June 8, 2017
ไฟไหม้ ซ.ประดิพัทธิ 23 หลังวัดไผ่ตัน @js100radio pic.twitter.com/03zCOP7bz1

— Best comsci (@thebestcs) June 8, 2017
@js100radio ไฟไหม้บ้านในชุมชนข้างวัดไผ่ตัน พหลโยธิน15 เริ่มแรงขึ้นเรืี่อยๆ รถดับเพลิงกำลังเข้ามา pic.twitter.com/2dkEpgDhn0

— pkanchai (@phatkanchai) June 8, 2017
@js100radio pic.twitter.com/qBEkrbGg4j

— dear (@nitchinan318207) June 8, 2017