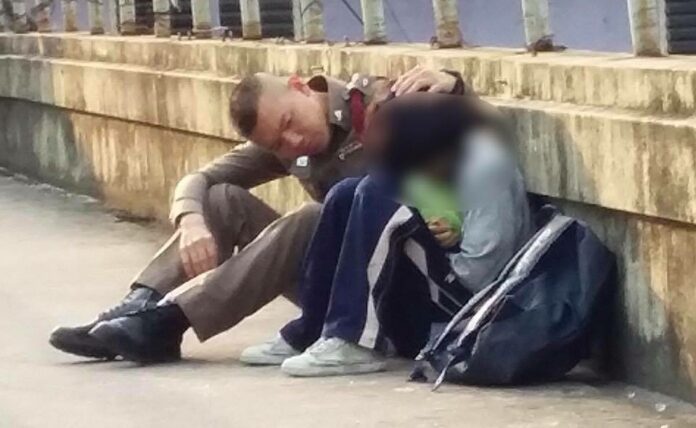 CHONBURI — A cop who talked down a suicidal teenage girl said all he had to do was be a good listener.
Capt. Nuttawut Na Chiang Mai of Chonburi City police talked a 14-year-old from a pedestrian bridge Thursday, an act that went on to be widely praised for his display of sensitivity.
"I didn't do much of the talking. Mostly I listened to her talk," Nuttawut said in an exclusive interview Friday. "At first she didn't respond to me at all, but she slowly started to open up about her problems. She wanted to tell me."
To calm her down, Nuttawut said he gave her a bit of advice as well.
"I taught her that she's still very young, and that she's still got a lot of people to meet, and a lot more of society to see," Nuttawut said.
Nuttawut said the girl was depressed because her parents were always fighting, she had been fighting with friends, and her teacher had yelled at her.
Nuttawut's deed was widely shared online in a post that was liked more than 26,000 times and shared more than 20,000 times since last night.
Many left comments blaming the girl's parents and praising Nuttawut for improving the image of a police force tainted by a reputation for being lazy and venal.
At least one person identified with the troubled girl.
"I used to be in that situation as well," user Maimeearai Paisoogubkao wrote. "Thanks to all the good cops in society. I hope and pray that we have only honorable cops who act like real men and truly protect citizens."