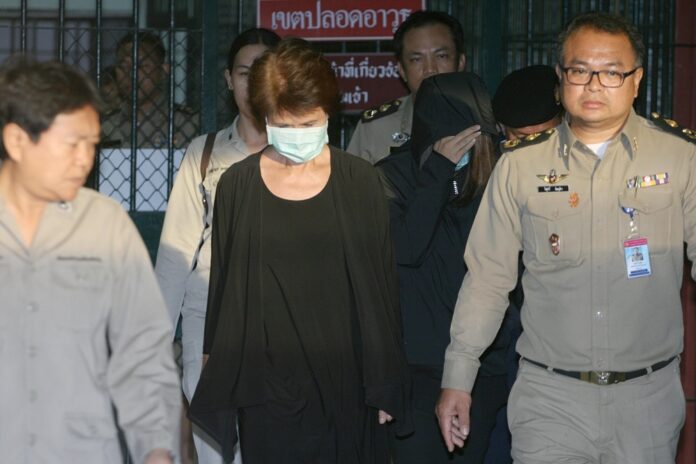 BANGKOK — The former head of Thailand's tourism promotion board was sentenced on Wednesday to 50 years in prison for accepting $1.8 million in bribes from two Hollywood producers to let them organize the Bangkok International Film Festival a decade ago.
A court established last year to hear corruption cases found Juthamas Siriwan guilty on 11 counts, each carrying a six-year sentence, but prison sentences are capped at 50 years under Thai law. Her daughter Jittisopa, into whose accounts the money was transferred, was found guilty on 11 counts for which she received a 44-year prison sentence. Juthamas was also ordered to forfeit the bribe money.
The Central Court for Corruption and Misconduct, set up to hear cases against state officials accused of graft and misconduct, is part of the Criminal Court. It denied a request to allow the women to be freed on bail.
A U.S. federal court in 2010 sentenced filmmakers Gerald and Patricia Green to six months in prison after they were convicted of conspiracy under the Foreign Corrupt Practices Act, which prohibits making corrupt payments to foreign officials for business purposes. The sentence also called for three years of supervised release and the payment of $250,000 in restitution.
The courts found that the Greens paid bribes to Juthamas from 2002 to 2007, while she was governor of the Tourism Authority of Thailand, to secure the film festival rights and tourism-related deals that earned them more than $13 million in revenue.
U.S. prosecutors said the Greens created shell companies to pay off Juthamas, with the money then transferred into the bank accounts of Juthamas' daughter and a friend.
Juthamas ran for a parliamentary seat in 2007 but pulled out of the race after the allegations surfaced.
Gerald Green's career in Hollywood spanned more than 30 years. He paired with Oliver Stone on "Salvador," which was nominated for two Academy Awards, and served as executive producer on the Christian Bale-led "Rescue Dawn" in 2006. He died in 2015.
Patricia Green produced "Diamonds," a comedy starring Kirk Douglas and Lauren Bacall.
Under the Greens, the Bangkok International Film Festival was able to attract A-list stars to its red carpet events, including director Stone and actors Val Kilmer and Colin Farrell.
The festival is still supported by the tourism authority.
Story: Kaweewit Kaewjinda