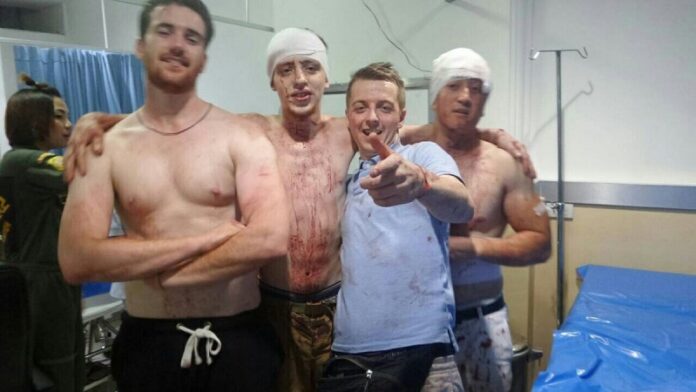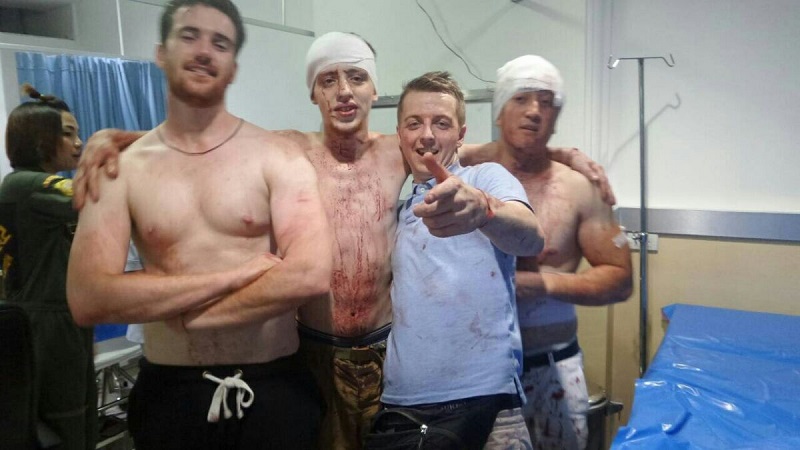 BANGKOK — Two guards working for a nightclub in a popular backpacker destination lost their jobs for kicking and beating two British men.
According to police, the two victims and their friends attempted to enter Brick Bar on Khaosan Road at around 3am Monday, but they were intoxicated and carrying beer bottles at the time, so the bouncers denied them entry.
Upon being refused entry, the four Britons went into a nearby restroom, where they allegedly splashed their beer on other customers, at which point the bouncers intervened, dragged two of the tourists into the street and assaulted them, said Tourist Police deputy chief Col. Nithithorn Chintakanon.
"It was definitely wrong of the guards to beat up those tourists, but the Thais were also punched few times by the [other two] tourists, but, of course, in the video it looked like a one-sided assault," Col. Nithithorn said.
Police later arrived at the scene and arrested two bouncers working for the bar, identified as Jiranuwat Saiyadee, 23, and Preecha Pansomboon, 30. The two injured Britons were named as Amando Rodriguez and Niall Loftus.
Col. Nithitorn said the two suspects were subsequently charged and convicted of assault, given a one-year suspended jail sentence, and fined 2,000 baht each. They were later expelled by the company that owns Brick Bar, according to Nithithorn.
The four tourists were also paid 10,000 baht each in compensation by the bar, Nithithorn added.