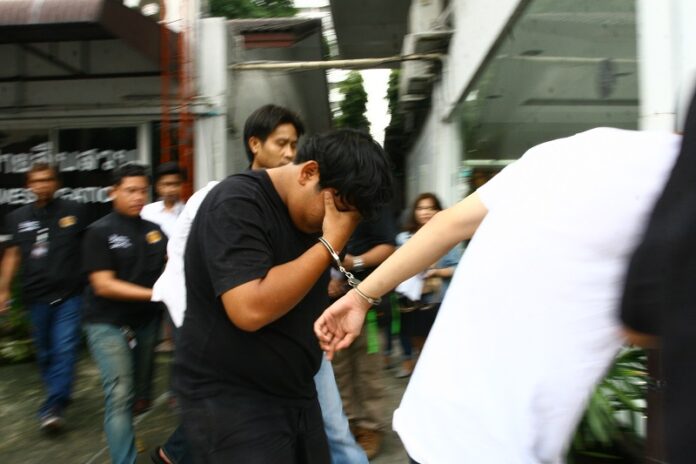 BANGKOK — Police on Tuesday arrested the last of the group of students who shot a fellow student to death for not participating in their initiation rituals.
Teerapat Chuesin, 20, was the fourth suspect to be arrested, after police detained his three classmates for the killing of Nattapong Satachon, 24, on Oct. 28. The suspects and the victim were enrolled at Rajamangala University of Technology Phra Nakhon in Bangkok.
Police said Nattapong was eating noodles at a roadside stall when the four suspects arrived on motorcycles, shot him dead and fled the scene. Teerapat and his accomplices confessed to the crimes said Col. Samart Promchart, chief of Prachachuen Police Station.
"We have arrested all of them: the gunman, his driver, the getaway driver and the spotter," Samart said. "They all confessed."
The motive of the murder stems from Nattapong's refusal to undergo the series of initiation rituals, known as rub nong, at the university, according to Samart. The police colonel said Nattapong belonged to a group of students who started their studies at the university at an older age, so they didn't see why they had to be treated as subservients by younger students.
The two groups previously had arguments and fistfights about the issue, as the organizers of rub nong activities accused students who didn't join them of being disrespect, Samart said. He added that Nattapong was the leader of the faction of older students who often volunteered to negotiate with the rub nong hardliners.
Police said the four suspects eventually plotted to murder Nattapong because of his stance.
Apart from Teerapat, the three other suspects are Supornchai Sornpong, 21; Visittasak Yam-in, 21; and Pattarachai Somboondee, 20.

All of them are charged with premeditated murder and firearm offenses. Col. Samart said police would ask the court to deny them bail at Thursday's remand hearing.
Rub nong is a common practice in Thai schools and universities. The activities sometimes involve violence and sexual harassment, leading to injuries and even deaths.