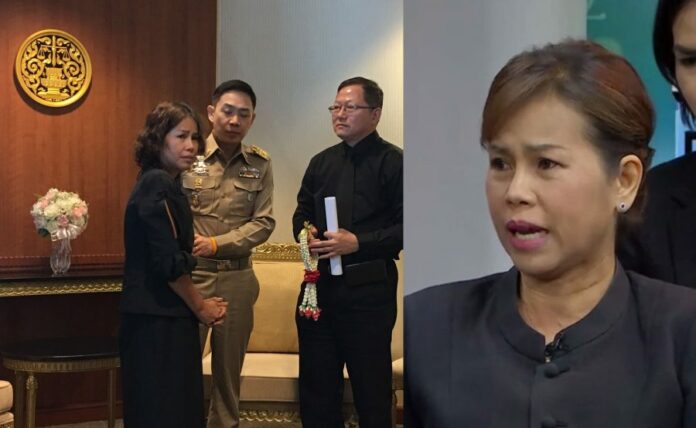 BANGKOK — A teacher imprisoned for a year and a half for killing a motorcyclist on the road has gone public with a story of injustice and police incompetence that a court will soon hear.
Professing her innocence ever since being blamed for a fatal road accident a dozen years ago, Jomsap Saenmuangkot alleges a rigged system resulted in her being wrongfully imprisoned two years ago in a case police willfully ignored evidence to win her conviction.
"When I was going into jail, I thought, 'Thailand, Thailand, why are you like this?'" Jomsap said in a televised interview Tuesday night, tearing up. "I sometimes thought about drinking floor cleaner in jail."
The difference now is that Jomsap isn't alone. Her claim of innocence has the support of justice officials, officers with the Department of Special Investigation and legal advocates who agree she got a bum rap.
Now she's seeking compensation for wrongful imprisonment nearly 12 years after she was implicated in a fatal hit-and-run accident that would turn into a eight-year legal battle ending with her sentenced to more than three years in jail in late 2013.
In a nation frequently captivated by stories of gross injustice, Jomsap's appearances on a variety of television programs discussing her case has garnered great public sympathy.
"The most despicable thing about the justice system is jailing the innocent. One life has been completely destroyed, nothing can heal that," wrote user Nattapol Sinthaweewat on a discussion of Jomsap's case in the popular Drama-addict group on Facebook.
As she has recounted, the schoolteacher was at home watching television in Sakon Nakhon province on March 11, 2005, when the road accident she would be implicated for occurred a province away in Nakhon Phanom.
A witness at the scene reported the car's license plate to the police, but officers ignored the fact it also matched another plate registered in another province. They also may have ignored witness testimony the driver was a large man in a green truck – Jomsap drove a brown car – to win her conviction.
Thai justice comes down hardest on those who refuse to confess, and it made things worse for Jomsap when she refused to do so in exchange for a lighter sentence.
"I believed I was innocent. If I did that, then the real criminal would get away. I wouldn't do it," Jomsap said on Amarin TV's Different People, Different Opinions show.
After her Sept. 24, 2013, conviction, Jomsap's friends sought help from the Justice Ministry to find evidence which would exonerate her. She likely would have served the full term were it not for a royal pardon on April 3, 2015.
Rojana Jantrut, Jomsap's childhood friend, said she and officers from the DSI tracked down the real perpetrator, who turned out to be a "man of wealth."
"He didn't know that a teacher would go to jail instead of him. He quickly confessed that he had killed someone in a road accident in '05," Rojana said on the program.
On Wednesday, Kasem Mutaporn of Nakhon Phanom police confirmed that a man named Sap Wapee confessed just over a year ago.
"He will give his testimony at the court on the 16th," Col. Kasem said.
A new trial to clear Jomsap's name and determine whether she should be compensated is scheduled for Jan. 16. Under the law, convicts later found to have been wrongfully jailed are eligible to receive 500 baht per day they spent behind bars, along with a maximum 50,000 baht for physical and mental rehabilitation and up to 40,000 for medical fees.
Jomsap said irreparable damage has been done to her life. While in jail, her oldest child died, the cost of her defense forced her second child to drop out of university, and her husband left her.
The veteran teacher is also seeking to be reinstated at the school which fired her over the matter.
Despite or even because of what happened, she said the public is also to blame for going along with a corrupt system.
"When other prisoners would ask me why I didn't just bribe the police with money so I wouldn't have any trouble, I got really sad. Why do most people think like this? Why do people choose the easy way out?" she said on the show.