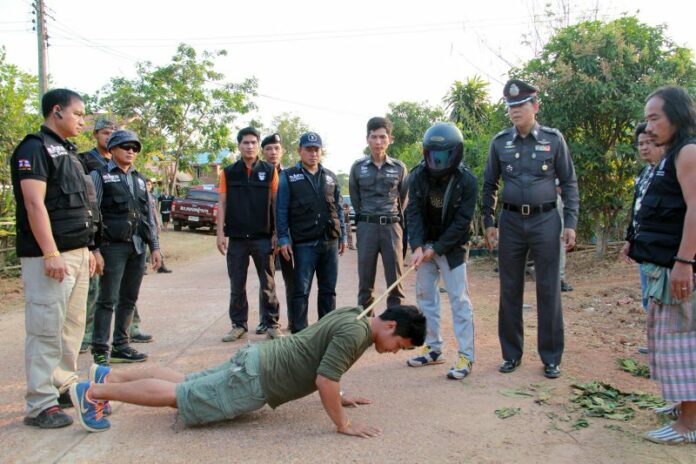 BUENG KAN — A man is accused of murdering his own cousin when an argument over the ongoing raid of a Buddhist sect exploded into violence Wednesday morning.
Phromlikit Somkarn, 30, died from a blow to his head delivered by neighbor and cousin Thanapol Singto at about 9am after their argument about the fate of Dhammachayo turned deadly.
"Neither of them were Dhammakaya religious fanatics. They were cousins living next to each other. Their roofs were literally touching. Neither was drunk," police Capt. Prayoon Chaiphet said Wednesday.
For over two weeks now, officers from the Department of Special Investigation have besieged the grounds of Dhammakaya, a Buddhist order whose spiritual leader is sought on a variety of charges, including money laundering.
According to witnesses at the scene, the two were fighting over whether the former fugitive abbot would be located. Phromlikit argued Dhammachayo would never be found, while Thanapol, 25, insisted he would.
The men started throwing fists, and at some point Phromlikit pulled a knife on Thanapol, who fled. With Phromlikit in pursuit, Thanapol reportedly spotted a meter-long metal rod lying by a tamarind tree. He picked it up and swung it at Phromlikit, catching him on the left side of his head.
Phromlikit was rushed to the Phon Charoen Hospital by relatives, where he died Wednesday morning.
Thanapol fled the scene and went hid at a hotel, Prayoon said. Donyanang district police later went to the scene and pressured Thanapol's relatives to turn him in.
He now stands charged of murder.