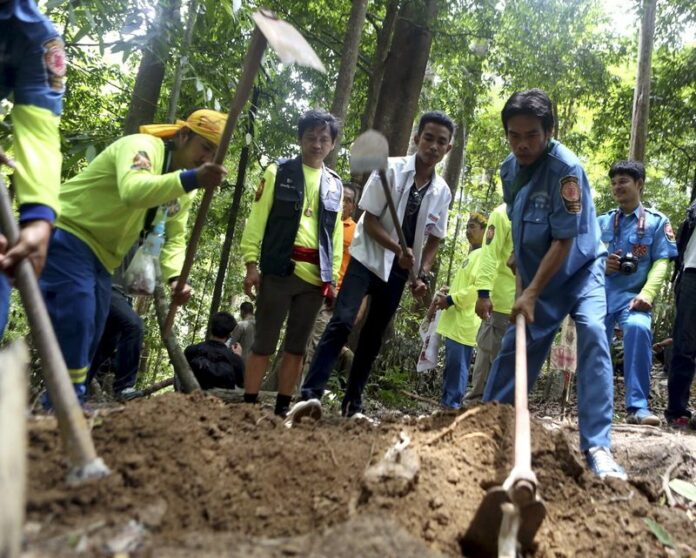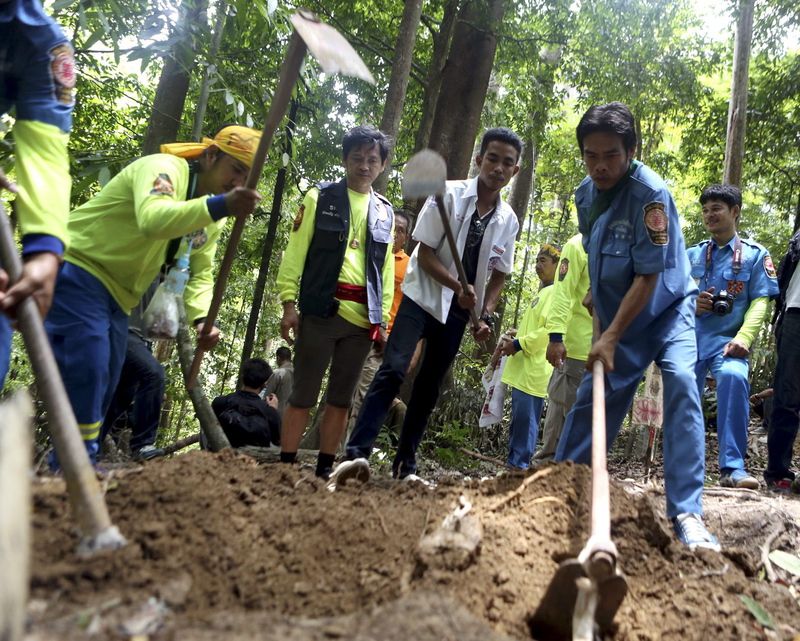 BANGKOK — Rights activists and a local Rohingya leader welcomed the heavy sentences handed down by the Criminal Court this past week to those involved in a massive human trafficking operation but said more needs to be done.
After 62 of 103 defendants were convicted of various crimes related to the human trafficking ring which largely preyed on Rohingya fleeing persecution in Myanmar, those involved in the issue said apathy at home remains a problem as does fear of the powerful …
Siyeed Alam, Bangkok-based president of the Rohingya Association in Thailand, was in the courtroom from 9am to 10pm to hear what may have been the longest verdict read in Thai judicial history.
"It went well, and it seems that the Thai government is concerned about human trafficking," Alam said. "However, there was no mention about the 300 to 400 people who died."
On May 1, 2015, 32 bodies were recovered from mass graves along with about 100 Rohingya from Myanmar and Bangladesh from a prison camp near the Thai-Malaysian border on a mountain in Songkhla province's Padang Besar district. It eventually led to the arrest of 103 suspects out of 153 arrest warrants issued.
Manas noted the fact a former senior police officer, Maj. Gen. Pawin Phongsirin, the deputy provincial police commander in charge of the case, fled later that year to Australia to seek refuge, saying he feared for his life. Manas said that says a lot about the power of those involved in the trafficking ring.
"I don't want to say more, but I know a thing or two," he said.
The court spent 13 hours reading the verdicts. Three of the major suspects convicted was Lt. Gen. Manas Koongpan, former Satun province administrator Patchuban Angchotipan (aka Koh Tong) and former Pandang Besar mayor Banjong Pongphol.
Manas was found guilty of exploiting his authority during his time as a director of the Internal Security Operations Command, or ISOC, a counterinsurgency force active in the southernmost provinces which answers to the prime minister.
He oversaw the region through which the trafficking route ran. He was sentenced to 27 years by the Criminal Court. Ringleader Patchuban was given a sentence of 75 years while Pandang received a 78-year term.
Alam said apathy among Thais is an issue that needs to be addressed, an issue also noted by a prominent social commentator.
Pipob Udomittipong wrote online Thursday that the Thai media, particularly broadcast media, seemed less interested in the "groundbreaking" court cases than Western media outlets such as Reuters or the BBC. Asked why that might be the case, Chiang Mai-based Pipob said it might be because it involved a senior military officer, and Thai broadcast media might have felt reluctant to play up the news.
Also cited was a general apathy toward the Rohingya people, who some Thais consider as simply alien.
"They may see them as 'the other,' non-Thai, and so they don't pay attention," Pipob said.
While praising the verdicts as "historic," a Thai campaigner for Rohingya rights said the verdicts were the culmination of hard work and lobbying by a handful of NGO workers in Thailand, including herself.
Wanida Jiamram, a manager at the International Institute of Peace and Development Studies, said although there are only about 10 Thai human rights defenders specializing in the issue, with a couple other Westerners and Rohingya people, they worked hard to draw interest from Western governments and the United Nations and supplied them with critical information.
Wanida has worked on the issue for eight years. She said more needs to be done in Myanmar to resolve the crisis but added that a more enabling attitude among Thais is also vital.
"Some Thais feel disdain toward the Rohingya. Thais still have an issue with nationalism and don't quite regard them as fellow human beings," she said. "The only thing we can do is to try to make them realize the Rohingya are humans like us."
She said the good news was that the abuse discovered two years ago, which led to Wednesday's ruling, brought the issue to the awareness of Thai muslims. Both in Bangkok and the Deep South, Thai Muslims have begun paying attention and realizing they were not doing enough for the plight of the Rohingya, who are also Muslim.
"I am a non-believer when it comes to religion, and those [Thai] Muslims recognized that and felt sorry," Wanida said, adding that trafficking didn't end with Wednesday's verdicts, no matter how historic.
Alam believes some 50 to 60 traffickers are still at large. Speaking fluent Thai, Alam reckoned there must be some Rohingya complicit in the operation as well. He urged the United Nations and concerned countries, Thailand included, to pressure Myanmar to resolve the problem at the root.
Acknowledging important progress, Amy Smith, executive director of Bangkok-based Fortify Rights, said the verdicts should send a strong message.
#Thailand's #humantrafficking court delivers guilty verdicts to accused, awards compensation to #Rohingya victims. Impressive!

— Amy A. Smith (@AmyAlexSmith) July 19, 2017
"The judgment is a milepost for Thai authorities and we hope it sends a shock wave to criminal syndicates and complicit institutions in the country," she said in a statement. "More needs to be done to account for the horrific crimes that took place in Thailand over the last few years and to ensure this never happens again."
Smith also praised the 4.4 million baht in court-ordered restitution for the victims as well. "Impressive!" she tweeted late Wednesday night.
But she said extensive trafficking continues despite the verdicts.
"This is maybe the tip of the iceberg," she said.
#Thailand convicted 62 people in its largest-ever #humantrafficking trial—watch here to see what it's all about: pic.twitter.com/SUseholSw2

— Fortify Rights (@FortifyRights) July 20, 2017