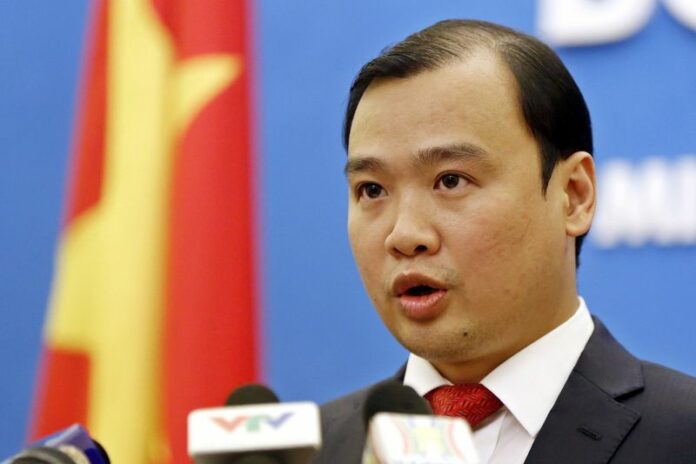 HANOI (DPA) — The Vietnamese government Thursday blamed "bad elements" for anti-China protests across the country over the last few days, which left one Chinese worker dead.
"The government and the majority of Vietnamese people condemn the bad elements who sabotaged Chinese-owned companies and others," Ministry of Foreign Affairs spokesman Le Hai Binh told reporters, adding that others had been incited to violence.
The Chinese worker was killed when anti-China protests turned violent at a Taiwanese-owned steel mill in central Vietnam, a local official said.
"Due to a conflict between Vietnamese and Chinese workers, there was a riot, 149 were injured and one died," Dang Quoc Khanh, deputy chairman of Ha Tinh provincial People's Committee said.
Sixty-six people were arrested.
Binh dismissed as "groundless" earlier reports that some 20 people had died in the violence.
The protest started peacefully Wednesday morning, with Vietnamese workers calling for China to remove an oil rig from waters in the South China Sea also claimed by Vietnam, but by the afternoon it had turned violent, local media reported.
"The clash … led to injuries of both local people (workers) and dozens of Chinese workers," Tuoi Tre newspaper quoted district police captain Nguyen Phi Hai as saying. The riot ended Wednesday evening.
A Ha Tinh hospital had received 75 Chinese nationals, said a high-ranking official with China 19th Metallurgical Corporation (MCC19), one of the worst hit among the Chinese companies, according to the official Xinhua news agency.
Security forces were guarding the hospital, said the official, who did not wish to be named.
Eight Chinese remained unaccounted, the report quoted an MCC19 official as saying.
The incident followed protests involving up to 20,000 people in industrial parks in Binh Duong province, near Ho Chi Minh City Tuesday.
Peaceful protests were also reported at a factory in Thai Binh province in North Vietnam.
Hundreds of Chinese are reported to have fled to Cambodia following the recent protests.
"Yesterday, up to 600 arrived, but today is normal," said Cambodian Interior Ministry spokesman Lieutenant General Khieu Sopheak.
Sopheak said he didn't expect more arrivals.
"I think once the situation normalizes, they will go back to their homes and respective workplaces [in Vietnam]," he said.
Taiwan protested Wednesday over the damage to factories during the protests, and announced charter flights to bring its citizens home.
Two Taiwanese were injured, Foreign Minister David Lin told parliament.
Taipei was to lay on charter flights with more than 1,000 seats this week to bring overseas Taiwanese in Vietnam back home, the Transport Ministry said.