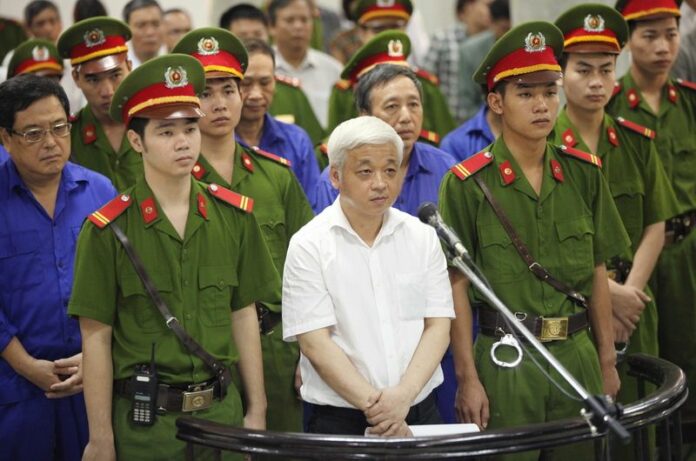 HANOI (DPA) — A tycoon who started one of Vietnam's largest private banks was sentenced to 30 years in prison Monday for fraud, tax evasion and "conducting illegal business activities."
Asia Commercial Bank founder Nguyen Duc Kien was convicted of using separate business holdings to issue corporate bonds and false business plans to secure hundreds of millions of dollars in financing from other banks.
He then used the money to buy shares of several other banks, before loaning out those shares for cash for debt repayments and personal expenditures, prosecutors said.
Kien was charged with misappropriation of assets and intentional violation of regulations causing serious consequences. He was also charged with tax evasion and illegal trading.
The court also ordered him to pay 3.5 million dollars in damages.
At the trial, Kien and other eight defendants rejected the charges.
Kien is one of Vietnam's 20 wealthiest people, according to stock reports, and is a major shareholder in several commercial banks.
He was also former deputy chairman of the Vietnam Professional Football Joint Stock Co, which runs the national league, and was chairman of the Hanoi Football Club.
His arrest in 2012 provoked a run on the bank and heightened concerns over the shaky state of the country's financial sector.
Bank chief executive officier Ly Xuan Hai was sentenced to eight years in prison for "deliberately acting against state regulations on economic management, causing serious consequences."
Four others were sentenced under the same charge and two more were found guilty of fraud. They were jailed for up to five and a half years in prison.
Tran Xuan Gia, former chairman of Asia Commercial Bank and a former minister of planning and investment was accused of approving decisions that allowed Kien to conduct business illegally with bank funds, resulting in losses equivalent to about 80 million dollars.
But the court adjourned proceedings against him at the beginning of the trial, citing his poor health. He is suffering from cancer.