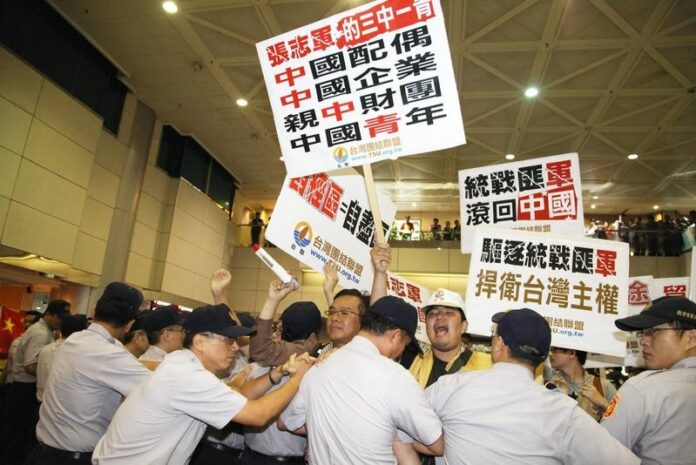 TAIPEI (DPA) — Beijing's top official on Taiwan affairs made his first visit to the territory Wednesday, where he was met with a mixed reception from the public.
Zhang Zhijun, director of China's Taiwan Affairs Office (TAO), landed around noon (0400 GMT) and was received by Taiwan's Mainland Affairs Council Deputy Minister Chang Hsien-yao.
Dozens of both pro-unification activists and anti-China protesters held loud demonstrations at the airport, where Zhang expressed greetings in a local Hokkien dialect.
He was to meet his counterpart Wang Yu-chi, Taiwan's Minister for the Mainland Affairs Council (MAC) in the afternoon, state-run Central News Agency reported.
The two officials met in February in Nanjing, China for the highest-level meeting between the two administrations since Taiwan split from the mainland following a civil war in 1949. Wednesday's was to be the first top-level meeting in Taiwan since then.
The agenda was to include the establishment of mutual representations.
Critics say an official Chinese representation in Taiwan would jeopardize national security, and could be seen as a tacit endorsement of Beijing's claim of sovereignty over the territory.
Outside the hotel, hundreds of protesters waved banners alongside several members of the religious Falun Gong group, who accuse Beijing of oppression.
Zhang's visit is criticized by Taiwan activists opposed to the rapprochement with Beijing implemented since President Ma Ying-jeou came to power in 2008.
In March, a government move to open the service sector to Chinese businesses prompted demonstrators, mostly students, to take to the streets and storm parliament.
Dozens of students from those protests joined the demonstrators outside the hotel where the officials were to meet.
"Down with the Wang-Zhang meeting! Taiwan decides its own future!" student leader Lin Fei-fan shouted.
Several protest groups said they were planning a show of football-style red cards to Zhang.
Some checked in to the same hotel late Tuesday, and several were told to check out Wednesday, with police trying to break into their rooms, the Apple Daily news website reported.
The Taiwan Association for Human Rights slammed the move. "We condemn the government which depreciates democracy and human rights," it said. "We strongly encourage the law enforcement officers not to take orders violating the constitution."
From Thursday , Zhang will visit community centres in New Taipei City, Taichung, Kaohsiung and Changhua to learn city-level policies and observe some religious activities. He was to depart on June 28.