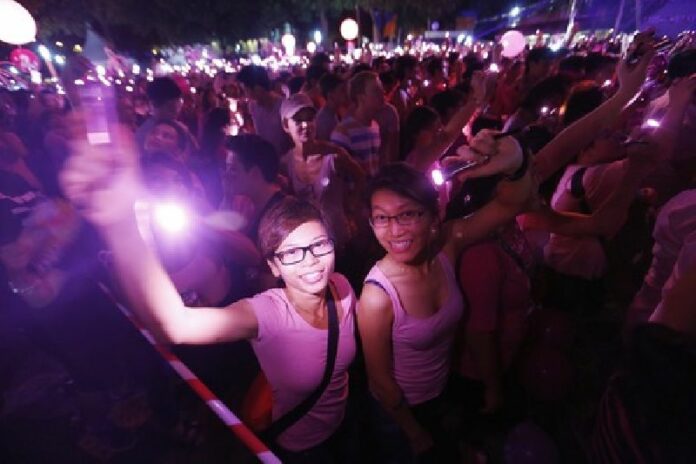 By Ng Yi Shu (DPA)
SINGAPORE (DPA) — More than 26,000 people dressed in pink gathered in the centre of Singapore on Saturday for the city's annual Pink Dot march in support of LGBT rights, despite opposition from religious groups.
The turnout for the six-year-old event, which aims to help change attitudes towards the gay community in the island city-state, set a new attendance record and was nearly 10 times higher than the inaugural rally in 2009.
Lesbian, gay, bisexual and transgender rights are a contentious issue in multiethnic Singapore, where a law in the Penal Code – known as S377A – criminalizes sex between men.
Parliament has so far refused to repeal S377A, but the law is not proactively enforced. A challenge on the law's constitutionality is pending in an appeals court.
Conservative religious groups oppose the any move to repeal S377A and held a counter-rally on Saturday, with members dressed in white.
Earlier this month, an Islamic religious teacher Noor Deros started the Wear White campaign, exhorting Muslims to wear the colour to protest homosexuality.
Deros was supported by Lawrence Khong, the pastor of the Faith Community Baptist Church, a megachurch in Singapore, who called for the church and like-minded groups to oppose the movement before it was "too late."
Pink Dot organizer Paerin Choa said in a statement he was "confident" that Singapore was "large enough for us all to co-exist peacefully, respectfully and with dignity."
"We are, at the end of the day, one big national family, and it is especially humbling this year, to see the sheer support we have received from Singaporeans from all walks of life," he said.