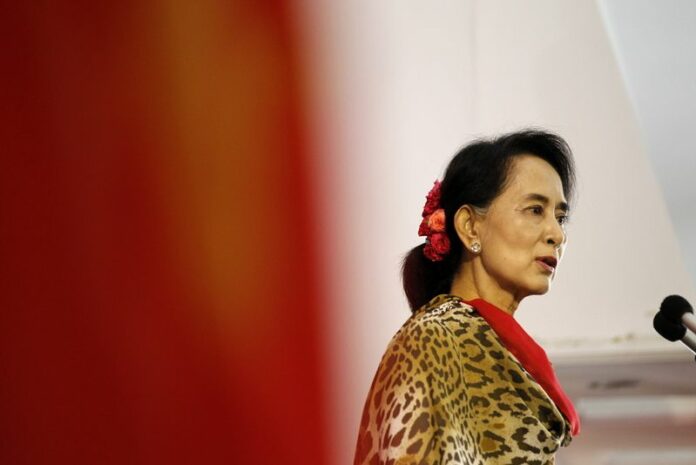 By Kyaw Lynn
YANGON (DPA) — Facing multiple political obstacles, Myanmar's opposition is deploying people power in an attempt to change the country's constitution, and enable its leader, Aung San Suu Kyi, to make a long-awaited run for president.
Since mid-May, opposition activists have been collecting signatures on a petition calling for constitutional change.
With more than 4 million names now on the document, it is almost ready to be submitted to parliament after a self-imposed deadline of July 19.
"I think the current government will care about a petition from over 4 million people, because this will bring more international pressure on the government over charter change," said De Mon, a guitar teacher.
Through the petition, Suu Kyi's National League for Democracy (NLD) party wants to make it easier to change the constitution, including the clause now at the centre of Myanmar's political future: 59(f).
No one who has a foreign spouse, or children with foreign citizenship – which Suu Kyi has – can be president, it says.
Political avenues to amend the charter have led nowhere.
In June a parliamentary committee, dominated by the ruling Union Solidarity and Development Party (USDP), decided not to amend the clause.
Meanwhile, the country's most important figures – including President Thein Sein, house speaker Shwe Mann, and army chief Senior General Min Aung Hlaing – have refused even to meet Suu Kyi to discuss the issue.
Signatories to the petition, many of whom simply want a new government, are hoping it will have a greater impact than past efforts.
"I don't know much about the constitution, but I believe this government and this (USDP) party will not bring a bright future for our country," said teashop owner Htay Win.
The hopes of Htay Win and his fellow signatories may be dashed.
"They can do what they want to, but no one of us will support [the petition]," said Htay Oo, vice chairman of the USDP.
"Constitutional reform must be in accordance with existing laws," Htay Oo told dpa.
"Even some [NLD] party leaders doubt it will bring about a constitutional amendment," said Aung Thu Hein, a leader of NLD in Pathein, about 200 kilometres south-east of former capital Yangon.
Khin Maung Swe, chairman of the National Democratic Forces party, a breakaway group of NLD members formed in 2010, says Suu Kyi's struggle for the presidency is stopping progress on making other political reforms, such as increasing power-sharing between the central and state governments.
"I think Suu Kyi needs to say clearly her party will not try to amend that section 59(f) so that (other) charter changes go smoothly," he said.
"From many reliable sources, we've learned that Than Shwe doesn't want to see her as president anyway," he said, referring to the former junta chief, seen to still wield considerable influence in Myanmar.
Aye Maung, chairman of Rakhine Nationalities Development Party (RNDP) said he would back an Aung San Suu Kyi presidency, but would "never support" a change to the clause.
Most ethnic Rakhines fear that changing the requirements for president to allow leaders with foreign links could open the door to non-Myanmar influences on the country's character, he said.
The opposition is trying to reassure the country's leaders that the constitutional campaign is not about revenge for past crackdowns on pro-democracy activists.
"We don't want to put them in any trouble for their mistakes in the past," said NLD spokesman Nyan Win.
"They should know we just want faster and smoother transition to democracy," he said.
Few are optimistic that such overtures to the military-backed government will work.
"They have no desire to make changes that may threaten them," sai
Zaganar, a political activist and well-known comedian in Myanmar.
"I don't think Suu Kyi can be Myanmar president anyway," said Htay Win, owner of tea stall in downtown Yangon.
Despite that, "everyone accepts her as our leader," he said.