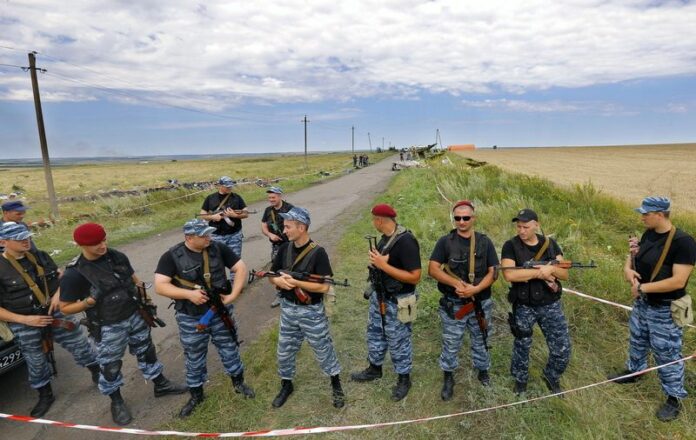 By John Grafilo and Wolfgang Jung
KIEV (DPA) — ​The Netherlands is set to take the lead into the investigation of Malaysia Airlines flight MH17, which crashed in eastern Ukraine last week, as Dutch investigators arrived Monday at the incident site to take over from their Ukrainian counterparts.
However, as has been the case since the Thursday crash – amid speculation that it was shot down in the midst of separatist fighting in eastern Ukraine – the way forward remained unclear, with Ukraine's government and much of the West accusing the separatists who control the region of hampering the investigation.
Ukrainian Prime Minister Arseniy Yatsenyuk said victims would be flown to Amsterdam to be examined at a leading forensics institute. The majority of flight MH17's passengers were Dutch citizens.
So far, 251 of the 298 victims have been loaded onto a refrigerated train in the town of Torez, near the crash site. But it was not clear when the train would move on from there.
"These bloody guerillas do not allow the train to leave," Yatsenyuk charged.
However, a rebel spokesman has said his men would help the Dutch experts inspect the crash site and the bodies.
Malaysian specialists were also scheduled to arrive at the scene Monday.
Meanwhile, international pressure continued to mount on Moscow to use its influence with the rebels and get them to cooperate with the investigation and clean-up operations.
The United States and other countries say there is strong evidence that Russia supplied the missile that shot down the airliner on Thursday.
German Chancellor Angela Merkel, French President Francois Hollande and British Prime Minister David Cameron threatened on the weekend to increase EU sanctions pressure on Moscow.
In New York, the UN Security Council in New York was preparing to vote on a resolution Monday that would call on all involved parties to cooperate with the international investigation.
Russian President Vladimir Putin warned against misusing the incident for political purposes and shifted blame to Kiev and its military operations against the rebels.
"If the fighting in the east of Ukraine had not resumed on June 28, this tragedy would surely not have happened," he said.