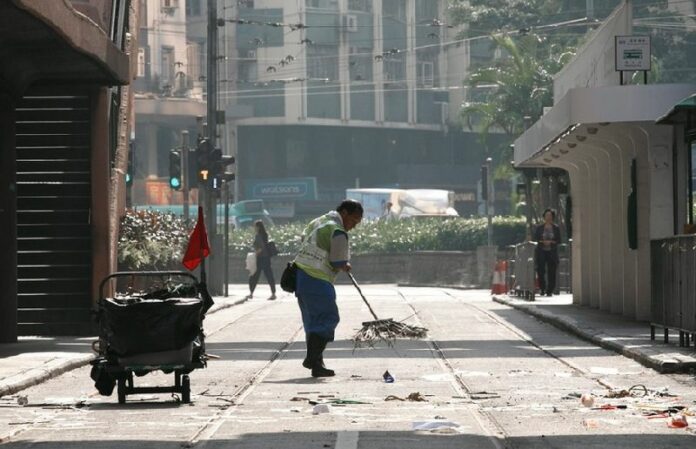 HONG KONG (DPA) — Bailiffs and police started to take down barricades and tents at Hong Kong's main pro-democracy protest site early Tuesday following a court order.
Protest leader Joshua Wong said that demonstrators would "respect the decision of the courts."
But the 18-year-old organizer of student activist group Scholarism said he would remain on Tim Mei Avenue outside the government's headquarters.
The court ruled last Tuesday that police and bailiffs could remove barricades from sections of protest sites in Admiralty district on Hong Kong island and the business district of Mong Kok near Kowloon.
Security forces and bailiffs moved against the Admiralty camp on Tuesday and were expected to clear the Mong Kok base this week, the South China Morning Post cited a police source as saying.
"We will just move somewhere else," a 33-year-old salesman who gave his name only as D. Chan told dpa.
For more than seven weeks, protestors have been blocking three of the city's main thoroughfares, calling for reforms ahead of the 2017 general election.
Beijing this summer agreed to extend direct elections to all parliament seats but retained the right to pre-select candidates for the post of chief executive.
Beijing on Saturday effectively barred student protest leaders from a planned visit to the mainland to meet officials by cancelling their permits to return home to Hong Kong.
Chief Secretary Carrie Lam Cheng Yuet-ngor has said there is "no room for dialogue" on any demands from students that are not within the scope of the government's agenda.
A Chinese University poll released earlier this week showed that public sentiment was against the protestors, with almost 70 per cent of Hong Kongers saying they would like to see the demonstrators go home.
Out of 1,030 people polled, 43 per cent were against the movement as a whole, while 34 per cent supported the protesters.
While Hong Kong is part of China, it operates under a "one country, two systems" policy which grants freedoms to residents that are not given to Chinese citizens on the mainland, and allows Hong Kong relative autonomy until 2047, as part of a joint agreement signed by Britain and China before the 1997 handover to Chinese rule.