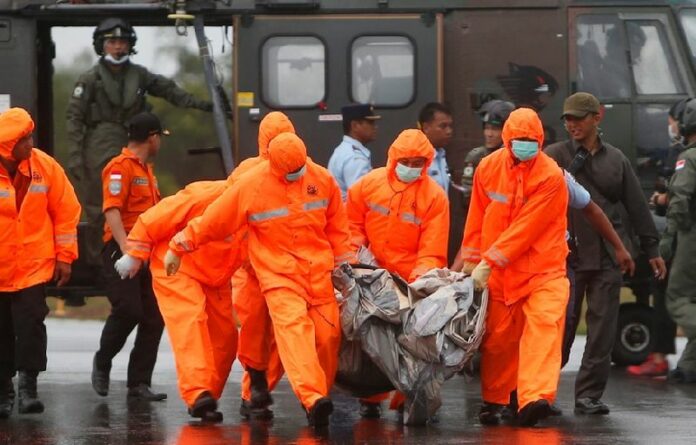 By Ahmad Pathoni
JAKARTA (DPA) – Indonesian searchers on Friday detected a signal from the flight recorders of the AirAsia plane that crashed on December 28, the army said.
A search vessel "received a signal ping estimated 300 metres from the first point," army chief General Moeldoko said on local broadcaster Metro TV, referring to the location where the tail was found this week.
"We are sending divers in the direction of the ping," he said.
The head of the National Search and Rescue Agency, Bambang Sulistyo, said he heard the reports, but said any finding related to the flight recorders had to be confirmed by the National Transport Safety Committee (KNKT), whose investigators were on board the search ship.
"Before there's a statement from the KNKT I will not be able to confirm it," he said.
The flight recorders are usually located in an aircraft's tail section and help investigators determine the chain of events that lead to an accident.
AirAsia flight QZ8501 crashed into the Java Sea with 162 people on board. No survivors have been found.
Bambang said the confirmed death toll from the crash rose to 48, after two more bodies still strapped to their seats were found Friday.
A Japanese seach team found three bodies and transported them to Pangkalan Bun, a town in Central Kalimantan province, said Johnson Simatupang, the commander of the local airbase.
Television pictures showed divers trying to retrieve the tail using lifting bags and air-tight equipment.
The bags would be strapped to the tail and inflated, search officials said.
The search for the plane's fuselage, thought to contain many of the victims' bodies, is ongoing.
For comments, or corrections to this article please contact: [email protected]
You can also find Khaosod English on Twitter and Facebook
http://twitter.com/KhaosodEnglish
http://www.facebook.com/KhaosodEnglish