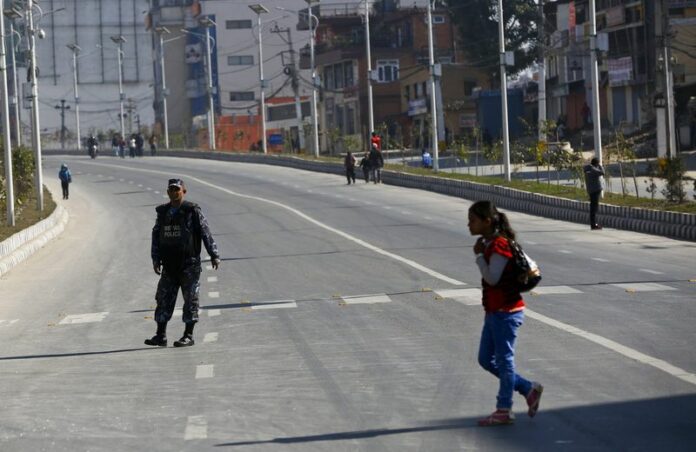 KATHMANDU (DPA) — Strikes paralyzed parts of Nepal Tuesday as opposition parties protested against the constitution drafting process scheduled to conclude this week.
Markets, mass transportation, schools and industries were closed, while demonstrators set fire to vehicles in some districts and journalists were barred from some cities.

Protesters are detained by Nepalese police during a general strike in Kathmandu, Nepal, 13 January 2015. EPA/NARENDRA SHRESTHA
The Unified Maoist party and 30 smaller allies are demanding that the new charter be finalized by consensus, rather than by a vote in the Constituent Assembly, which they would lose.
The ruling coalition Nepali Congress and the Communist Party of Nepal-Unified Marxists-Leninists, who dominate the assembly, are pushing for a vote to break the deadlock.
An assembly session broke down in violence late Monday as Maoist members chanted and broke chairs. Four security guards and three lawmakers were injured.
The argument over procedure reflects disagreements on content, centred on how to restructure the state after the civil war that ended in 2006.
"We have struck so many agreements in the past as we want to lead the country to change," said Top Bahadur Rayamajhi, a Unified Maoist leader.
"But the Nepali Congress and UML have been pushing against it to wreck all the issues.
"This thwarts our years of sacrifice. If the coalition wants to return to a past of autocracy, we might have to wage another revolution," Rayamajhi warned.
January 22 is the latest deadline to promulgate the new constitution, after several missed deadlines since the first constituent assembly was elected in 2008.
Other demonstrators blocked a highway in the south-east of the country Monday, demanding that Nepal be declared an officially Hindu country, a status it had until the current, provisional constitution was implemented in 2006.