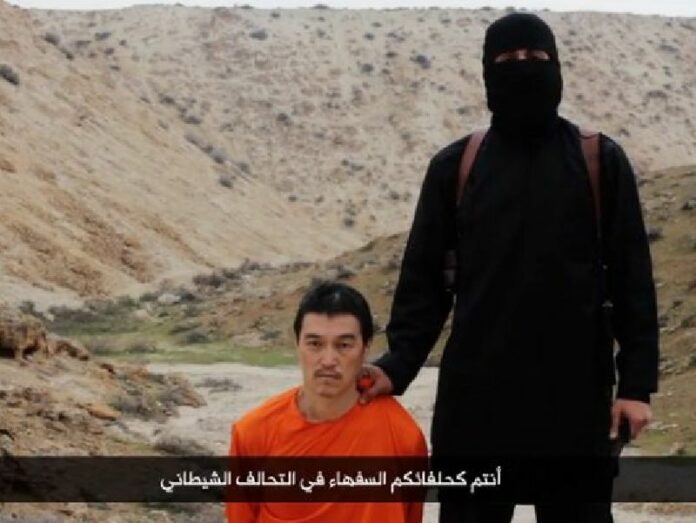 By Weedah Hamza
BEIRUT (DPA) – The Islamic State jihadist group announced late Saturday in an internet video that it has killed a second Japanese hostage, journalist Kenji Goto.
In a video titled "A message to Japan," a black-clad man holding a knife stands next to Goto, who is kneeling in an orange prison suit.
The knife is put to Goto's neck, and then video shows his bloodied head placed over the body.
Goto was a freelance journalist who covered wars in Africa, Afghanistan and the Middle East. He was abducted by Islamic State militants in October.
Before the killing, the militant in the video addresses Japanese Premier Shinzo Abe: "Because of your reckless decision to take part in this unwinnable war, this knife will not only slaughter Kenji but will also carry on and cause carnage wherever your people are found. … So let the nightmare for Japan begin."
Speaking in a southern English accent, the executioner, who has appeared in previous Islamic State video, said: "You, like your foolish allies in the satanic coalition, have yet to understand that we, by Allah's grace, are an Islamic caliphate with authority and power, an entire army thirsty for your blood."
In Tokyo, Abe told reporters he was outraged by the beheading of Goto.
"I feel strong resentment at the very despicable act," Abe said. "I will not tolerate terrorists."
He vowed to "cooperate with the international community and make the terrorists pay the price."
Goto's mother, Junko Ishido, told broadcaster NHK: "I'm so upset I'm left speechless."
In Washington, the White House National Security Council said US authorities were working to confirm the authenticity of the video.
US President Barack Obama condemned the slaying: "Through his reporting, Mr Goto courageously sought to convey the plight of the Syrian people to the outside world. Our thoughts are with Mr. Goto's family and loved ones, and we stand today in solidarity with Prime Minister Abe and the Japanese people in denouncing this barbaric act."
He applauded Japan's "steadfast commitment to advancing peace and prosperity in the Middle East," including through "generous assistance for innocent people affected by the conflicts in the region."
The United States would continue taking "decisive action to degrade and ultimately destroy" the Islamic State group, Obama said.
The group had said in an audio recording that Jordan had until sunset Thursday to release a jailed female militant, Sajida al-Rishawi, or Jordanian pilot Mu'ath al-Kasasbeh, whose fighter jet went down over Syria in territory held by Islamic State, and Goto, will be killed.
There was no mention of the Jordanian pilot's fate in the new video.
Jordan said Thursday it wants proof that the fighter pilot is alive before moving ahead with a prisoner swap with the militants.
Al-Rishawi, an Iraqi national, in 2005 took part in bombings that killed dozens of people in Jordan.
Some Jordanian media reports said that if al-Kasasbeh is dead, Rishawi will be hanged.
On January 24, the Islamic State group claimed responsibility for the beheading of Japanese hostage Haruna Yukawa. The militant group had first demanded a 200-million-dollar ransom for the release of Yukawa and Goto, in a video posted online on January 20.