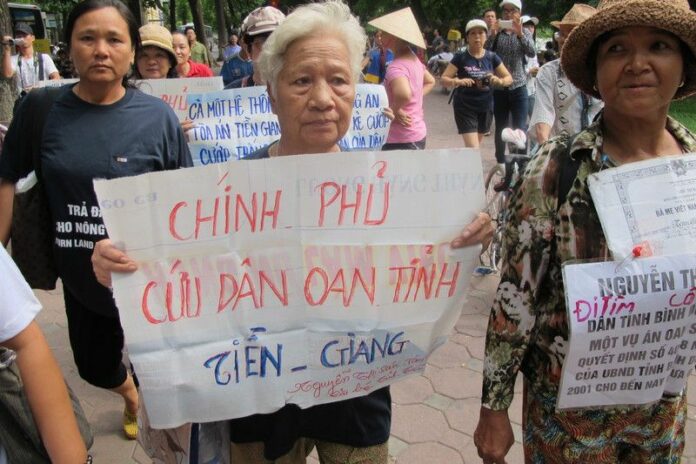 By Marianne Brown
HANOI (DPA) — Sitting at a small cafe, Trinh Ba Phuong, 31, reaches across the table to light his uncle's cigarette, before he explains how his parents ended up in prison over a land protest.
He has brought family members and friends to the interview for support in case he is tailed by security officials.
Phuong's father is serving a 20-month prison sentence and his mother 15 months for disturbing public order after they helped rally protesters against evictions for a residential project in their village, Duong Noi, on the outskirts of Hanoi, last year.
Around 350 of the village's families refused the 13 dollars per square metre they were offered in early 2014, saying it was too low.
"There was no discussion. Now they have taken the land. We're farmers, what job can we do?" Phuong says.
The story of Phuong's family is a common one in Vietnam, where land requisitions are frequently implemented for residential, commercial, industrial and infrastructural developments.
The forced evictions are becoming a source of politically dangerous discontent, prompting the government to introduce some changes.
Revisions to the Land Law in force since July upped the standard lease period for land – still owned by the communist state – from 20 to 50 years.
The changes also improved the calculation for compensation, a leading gripe behind 70 per cent of the 700,000 official complaints filed by evictees between 2008 and 2011, according to National Assembly officials cited by newspaper Thanh Nien.
Under the previous system, "They just did a rough survey on the price and published it every year," says Tito Nicolas, a specialist at the Asian Development Bank.

Than Thi Giang, 63, holds a banner asking Vietnam's Communist Party for help in preserving her parents' burial place at a demonstration in central Hanoi, June 2013 [DPA].
In a 2013 official index, only 18.8 per cent of respondents reported being offered prices close to the market value.
The new methodology in place since July addresses this "at least on paper," Nicolas says, and is based on a more thorough market comparison.
The improved law also states that land requisition can now only happen once there is somewhere for residents to move to, he says.
"In the past, even when the resettlement site was not ready they just gave them rental allowance and waited until the resettlement was ready. But now it is very clear."
Vietnam may be hoping to avoid some of the disruption and negative press faced by other countries in the region over similar problems.
In nearby Myanmar, tens of thousands of complaints have been brought before authorities as the economy booms following the political opening that started in 2011, and only 1,000 or so have been resolved, according to a parliamentary committee.
One case made global headlines when farmers ejected from a 9,000-hectare site to build an airport around 80 kilometres from Yangon complained they received nothing near the land's market value.
In Cambodia, the forced redevelopment of shantytowns around Boeng Kak lake in Phnom Penh also prompted an international scandal.
The World Bank froze lending to the country after 3,000 families were evicted to make way for the commercial development headed by a company owned by a senator from the ruling Cambodian People's Party.
Construction has stalled amid the scrutiny, with two Chinese partner firms cancelling their contracts.
The number of people helped by the Vietnamese reforms is limited, because they do not apply retroactively to hundreds of cases pending before the courts.
And resolving the compensation issue will not cover all residents' objections, according to a 2014 report by the Asia Foundation.
Those evicted are often more concerned about the future of their livelihoods and cultural practices, including places of worship and cemeteries, says the study titled Public Land Disputes in Vietnam.
Keeping parties happy often requires conflict management and communication rather than just payment, says John Gillespie, report co-author and professor at Monash University in Australia.
"You can't resolve the conflict if you need to widen the road and the person doesn't want to give up their house."
Mediation can help, Gillespie says, a bit like therapy. "When you tell someone your story you get a sense of release."
The report advocates rethinking the balance of power between land users and state officials. Policy makers may or may not yet take heed, but is small comfort to Phuong and his family.
The Duong Noi evictions took place before the new law came in, and he and his siblings have little hope for a mediated, peaceful resolution.
"Just look at the trial," he says. "We won't trust the government again."