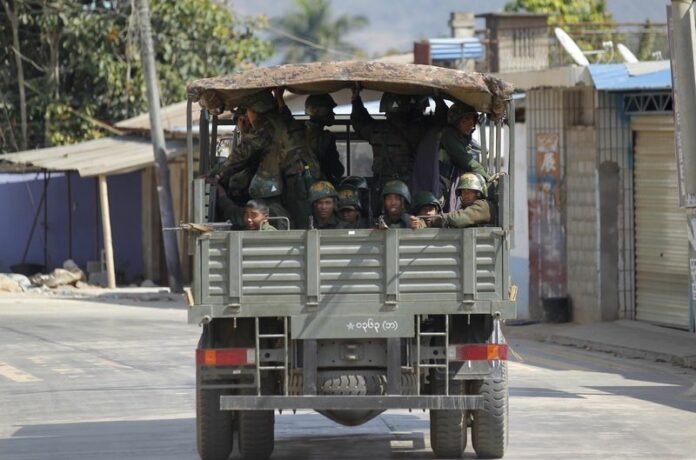 YANGON (DPA) – Myanmar's president has declared martial law in Shan State's northern Kokang region after heavy fighting between troops and rebels left nearly 100 dead, state media reported Tuesday.
According to state-run broadcaster MRTV, President Thein Sein signed an order that imposes martial law in Kokang for 90 days beginning Wednesday.
"The [region's] administration is under the army's control," a senior official from the president's office said.
Heavy fighting that began last week between government troops and Kokang rebels – known as the Myanmar National Democratic Alliance Army (MNDAA) – killed 47 soldiers and 26 rebels and sent tens of thousands of civilians fleeing from the region.
On Monday China said more than 30,000 refugees had crossed the Myanmar border into its southwestern Yunnan province.
The army launched an operation last week against the MNDAA rebels after they seized weapons from a local militia, the Global New Light of Myanmar reported.
Other ethnic rebel groups, including the Ta'ang National Liberation Army, the Arakan Army and Shan State Army-North in Shan state, joined the MNDAA to fight government troops, Kokang rebel spokesman Htun Myat Linn said.
The army began using helicopter gunships and fighter jets on the second day of fighting to attack rebel positions in Laukkai township in Shan state, media reports said.
The rebels are trying to retake the self-administered Kokang zone, which they controlled between 1989 and 2009.
Myanmar's army seized the area when the rebels refused to reform into a border guard force under the control of the military in 2009.
"The MNDAA just demands to be a group signing the nationwide ceasefire accord, but Myanmar government didn't accept our demand," Htut Myat Linn said. "What else can we do other than fight them to retake our region?"
The government has signed ceasefire agreements with a dozen ethnic rebel groups over the past three years as it attempts to unify the nation after decades of conflict.