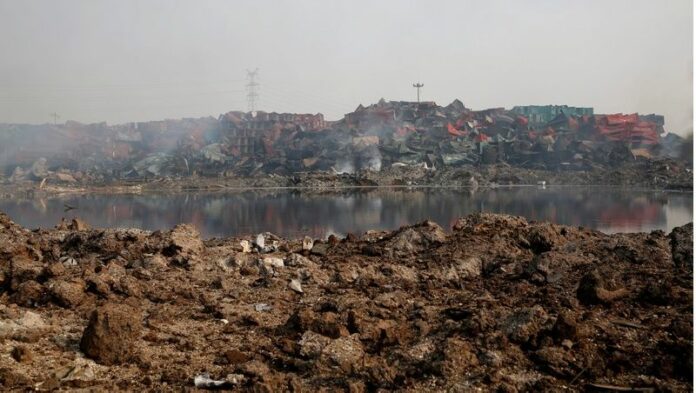 BEIJING (DPA) – Firefighters unknowingly sprayed water on a burning container at the site of deadly twin blasts in the Chinese city of Tianjin last week, according to an investigative report that was later taken offline.
The warehouse exploded in a huge fireball late Wednesday, killing at least 114 people. Officials have said several chemicals stored at the site were a fire hazard if in contact with water.
"We sprayed water on one container and after about 10 minutes, we heard sounds, then the container lit up," one firefighter was quoted as saying by Southern Weekend, one of mainland China's most-respected investigative publications.
Nobody warned the fire crew about any hazardous chemicals, he was quoted as saying in a report dated Thursday.
The report was quickly deleted but was cited in a report by the Beijing Youth Daily, accessed on Monday.
News of the report spread online over the weekend, as the government mouthpiece People's Daily called for patience, saying it was too early to identify the cause of the blast.
"Burning and explosions tend to destroy clues," it said. "The investigation could take a very long time. Impatience is useless," the paper wrote Monday.
In Monday testing, concentrations of sodium cyanide 27.4 times higher than safety standards was detected in surface wastewater at the site as firefighters raced to clear remaining barrels of the deadly chemical ahead of rain forecast for late Monday, an official said.
Five onsite water monitoring stations found excess levels of the toxic chemical, Bao Jingling, chief engineer of Tianjin's environmental protection bureau, told reporters.
Sodium cyanide, used in steel production and mining, is toxic by itself or in solution. In contact with water, it releases hydrogen cyanide gas, which is toxic, flammable and can be explosive.
Around 700 tons of sodium cyanide had been found intact, Bao was quoted as saying by Xinhua. The "unaffected" cyanide barrels were being trucked away, regional army commander Shi Luze was quoted as saying by Xinhua news agency. Leaking ones were being contained.
The warehouse operator had licence to store 10 tons of the hazardous compound, the South China Morning Post reported.
Some 18,000 containers, including 1,700-1,800 loaded with toxic chemicals, were damaged in the Tianjin blasts, said He Shushan, vice mayor of Tianjin, according to the New China News Agency.
Other news reports said the stocked chemicals included calcium carbide, which produces highly flammable acetylene when wet, as well as the potentially explosive compounds potassium nitrate and ammonium nitrate.
The confirmed death toll reached 114 Monday as rescuers found two more bodies in the debris, said Gong Jiansheng, deputy chief of Tianjin city publicity department.
At least 70 people are still missing and 698 were injured, including 57 in critical or serious condition. Most of the missing are firemen, Gong said.
A fresh explosion was reported early Monday and plumes of smoke were seen rising from the area just before 8 am (0000 GMT), according to China Central Television.
The blasts displaced 6,000 residents, Xinhua reported.
Prime Minister Li Keqiang visited the port city Sunday and bowed to portraits of the 21 dead firefighters.
He ordered the swift release of information about the explosions. Five days after the blast, no official explanation has been offered.
To reach us about this article or another matter, please contact us by e-mail at: [email protected].
Follow Khaosod English on
and
Twitter
for news, politics and more from Thailand.