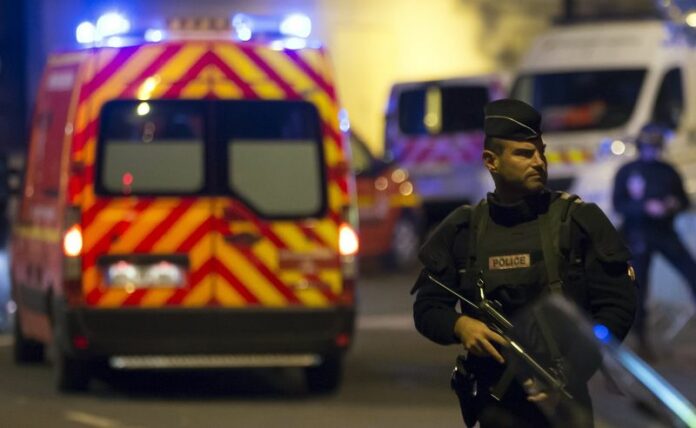 PARIS — At least 120 people are believed dead after a wave of coordinated terrorist attacks hit the French capital Paris, French prosecutors said early Saturday.
The majority of killings occurred in a shooting spree at a concert venue that led to a hostage situation, while the attackers also carried out at least one suicide bombing.
"This is a terrible ordeal," President Francois Hollande said.
Hollande, who declared a state of emergency across all of France, said the acts were carried out by "terrorists."
He said the nation's borders were being closed to prevent perpetrators from escaping or other security risks from entering, but the Elysee Palace later clarified that only border controls were being put in place.
It also said in a statement that 1,500 soldiers had been mobilized.
"In the face of terror, France has to be strong," Hollande said.
Media reports varied on how many different attacks had occurred as well as the number of dead. Some reports said there were up to seven different incidents.
Paris prosecutor Francois Molins was quoted by the AFP news agency as saying the toll "could reach, maybe even surpass 120 deaths." He added that five terrorists had so far been "neutralized."
Gunmen were reported to have opened fire in the Bataclan music venue before taking hostages, which led police to launch an assault. Three suspected terrorists were killed during that raid, AFP reported.
An eyewitness told France Info that the attackers in the concert hall were screaming "God is great" in Arabic.
"They shot straight into the crowd while screaming 'Allahu Akbar,' with shotguns I think," said the eyewitness, identified only as Louis, who said he was attending a concert with his mother.
Another eyewitness told AFP he had heard an attacker mention France's military intervention in Syria, where it is targeting the Islamic State extremist group.
The Bataclan, which can hold up to 1,500 people, was sold out for a concert of the US rock group Eagles of Death Metal, according to AFP. Hollande visited the scene after the police raid early Saturday, thanking emergency responders.
"We wanted to be here, among all those who saw these atrocious things, to say that we will lead the fight [against terrorism], that it will be ruthless," Hollande told journalists.
"Because when terrorists are capable of carrying out such atrocities, they have to be certain that there will be opposite them a determined France, a united France," he added.
Three explosions were also reported late Friday near the Stade de France football stadium, which had been sold out for a friendly match between the French and German national teams. At least five people were reported dead in those explosions.
At least one of them was carried out by a suicide bomber who died in the attack, AFP quoted police sources as saying.
Hollande was at the football game as word of the attacks arrived.
"We are all appalled and shocked," Germany's football coach, Joachim Loew, told the broadcaster ARD.
Police initially sent people leaving the arena back inside, but spectators were later evacuated.
Paris residents were instructed not to leave their homes unless absolutely necessary, while part of the city's public transport network was reported to have been shut down.
The events come 10 months after 17 people were killed in the French capital during terrorist attacks that targeted among others the offices of the satirical magazine Charlie Hebdo. The Bataclan is located nearby.
The attacks were met with international consternation and condemnation.
German Chancellor Angela Merkel declared herself "deeply distressed by the news and images that are reaching us from Paris."
"I am shocked by events in Paris tonight. Our thoughts and prayers are with the French people," British Prime Minister David Cameron wrote on Twitter. "We will do whatever we can to help."
The European Union's main institutions also condemned the Paris attacks as "despicable acts" in a joint statement, expressing their solidarity with France.
NATO chief Jens Stoltenberg said he was "deeply shocked by the horrific terrorist attacks," adding: "We stand strong and united in the fight against terrorism. Terrorism will never defeat democracy."
From the White House, US President Barack Obama said the attacks were an "attack on humanity and the universal values we all share." US Secretary of State John Kerry called them "heinous, evil, vile acts."
"Those of us who can must do everything in our power to fight back against what can only be considered an assault on our common humanity," he added.
Hollande had been due to travel to Turkey this weekend for a G20 summit of the world's 20 largest economies, but cancelled the trip following the attacks.
France will now be represented at the summit, which gets underway on Sunday, by Foreign Minister Laurent Fabius and Finance Minister Michel Sapin.
Story: DPA / Alexandra Mayer-Hohdahl