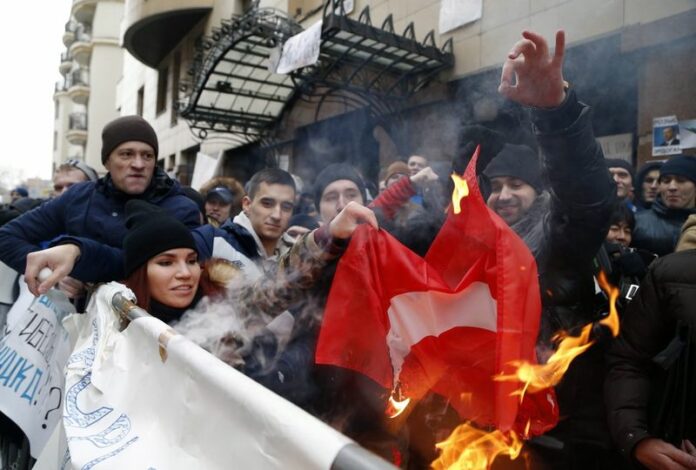 MOSCOW — Turkey's downing of a Russian Su-24 bomber near the Syrian border "looks like a planned provocation," Russian Foreign Minister Sergei Lavrov said on Wednesday.
"We have serious doubts that it was unintentional," Lavrov was quoted as saying by TASS news agency.
The Russian warplane was shot down by Turkish fighter jets on Tuesday as it returned from a mission in support of Syrian government forces.
One pilot died, apparently from Syrian rebel gunfire after he ejected, while the other landed safely and was rescued by Russian and Syrian special forces.
Ankara claimed the plane crossed its airspace despite repeated warnings over a five-minute period, while Moscow says it was over Syrian territory at all times.
Turkey is a major backer of Syrian rebels and has previously warned against Russian violations of its airspace.
The incident has led to a war of words between the two countries and cast a shadow over the Syrian peace process that brought key supporters of the rebels and the government together for the first time in Vienna earlier this month.
The surviving Russian pilot denied any suggestions that the jet had received warnings from the Turkish military or that it had crossed Turkish airspace.
"There weren't any warnings, neither in the form of radio signals nor visual. We had no contact at all," Konstantin Murakhtin told Russia's Interfax news agency on Wednesday.
The missile from the Turkish F-16 fighter jet had struck suddenly and without notice from behind, Murakhtin said. It had been impossible to carry out a defense manoeuvre, he said.
Syrian state news agency SANA said Murakhtin had been rescued by a combined group of Russian and Syrian special forces who penetrated 4.5 kilometres into "areas with a terrorist presence" – a reference to rebel groups.
Lavrov, who cancelled a visit to Turkey scheduled for Wednesday, said ties between the two countries will be "seriously revised."
But he downplayed the prospect of military reaction, saying: "We are not planning to wage a war against Turkey. … We have questions only to the Turkish leadership," TASS reported. Lavron later met with US Secretary of State John Kerry.
Russia has decided to deploy the advanced S-400 air defence missile systems to the Hmeimim military base, near the Syrian coastal city of Latakia, TASS reported quoting a Kremlin spokesman.
Hmeimim, Russia's main base since it began operations in Syria at the end of September, is 46 kilometres from the Turkey border.
Russian missile cruiser Moskva has been moved to a new combat duty position in Latakia where it "is ready to destroy any air target that is of potential danger to our aircraft," Russian Defence Minister Sergei Shoigu said in remarks reported by TASS.
The Russian Foreign Ministry said Lavrov had received a phone call from his Turkish counterpart Mevlut Cavusoglu. It said Cavusoglu had expressed his condolences over the death of the pilot but "his statement was ultimately intended to justify the actions of the Turkish Air Force."
Turkish President Recep Tayyip Erdogan insisted that his country "does not want to escalate this incident."
"Turkey only defended its security and its brothers' rights," Erdogan said in comments reported by state news agency Anadolu.
He criticized Russia's strikes in an area when the Turkmen ethnic minority live and rejected Moscow's claim of the presence of Islamic State militants in that region.
German Chancellor Angela Merkel added her voice to calls for calm, saying that the shooting down of the jet had worsened the situation.
"It is completely obvious that the only true solution here can be a political one," she told the Bundestag.
Merkel said she hoped recent events would not undo any progress that has been seen at the ongoing peace talks.
EU foreign policy chief Federica Mogherini also spoke by telephone to Lavrov. Her office said she expressed her condolences for the killing of the pilot and the two "agreed on the need to safeguard the diplomatic track for the Syrian crisis opened in Vienna."
US President Barack Obama earlier telephoned Erdogan, saying that Ankara has the right to defend its sovereignty. Both leaders agreed that tensions must not be allowed to escalate further, according to the White House.
Al-Assad ally Iran said the downing of the plane sent the "wrong signal" to the terrorists.
"With these wrong signals and messages the terrorists will only be more encouraged to continue their terror operations in the region and worldwide," Iranian Foreign Ministry spokesman Hossein Jaber Ansari said.
Story: DPA, Pol O Gradaigh, Weedah Hamzah and Marwa Al-A'sar