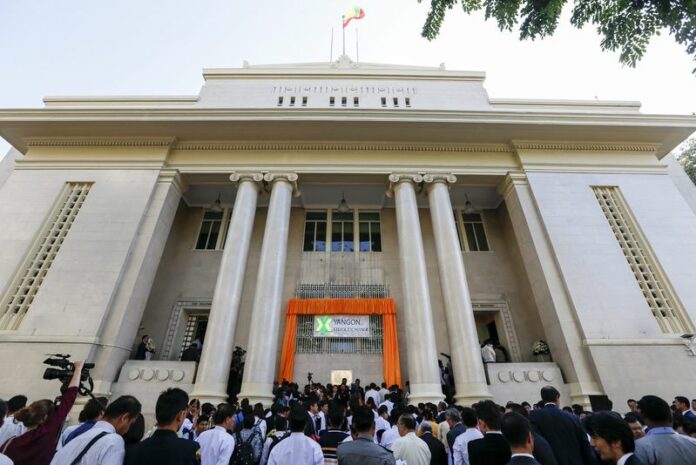 YANGON — Myanmar formally launched its first equities stock exchange today with six local companies listed.
Headquartered in the former Central Bank of Myanmar building, the Yangon Stock Exchange, or YSX, was founded with an estimated USD$24 million of investment from partners in Myanmar and Japan.
It has been a longstanding goal of the authorities in Myanmar to have a bourse,as the biggest economy in Asia without its own stock exchange, according to financial newswire Bloomberg.
The launch marks another step in the opening up of the country after decades of army rule and about five years under a military-backed government.
However, trading in shares will not begin straight away and foreign investors are not allowed to trade yet.
"I do not think trading will start until March next year," said Deputy Finance Minister Maung Maung Thein.
"Even when local companies are ready to sell shares, foreign investors will not be allowed to buy or sell them," he told reporters.
"Like other sectors such as telecommunication, we want to give more time for locally owned companies to expand," he said.
First Myamar Investment, First Private Bank, Great Forkham, MAPCO, Myanmar Citizens Bank and Myanmar Thilawa Public Company were the first six companies on the exchange, Maung Maung Thein said at the formal opening.
Each company had to have MMK500 million (USD$390,000) in paid-up capital and a minimum of 100 existing shareholders to be listed.
Tokyo Stock Exchange and Daiwa Securities Group hold a 49-per-cent stake in YSX, while the Myanmar Economic Bank owns a controlling 51 per cent.
Technically, YSX will be Myanmar's second stock exchange after the Myanmar Securities Exchange Center, which was established in 1996, and trades in just two stocks.
Story: DPA